Special: Two Sessions 2023
By Xue Lingqiao
(ECNS) — China's modernization has become a popular topic in recent years. During an exclusive interview with China News Network, Professor Swaran Singh, who teaches International Relations at Jawaharlal Nehru University (New Delhi) and currently a visiting professor with University of British Columbia (Vancouver), gave his ideas on this topic, as well as topics on the global economy and China's roles in global governance.
Speaking of the global economy, Prof. Singh pointed out that "the return of Chinese tourists is going to give a big boost to global economy", based on facts that the country has the largest tourism, outbound market in the world.
China has optimized its COVID response in early January targeting the recovery of outbound tourism, seeing the country's travelling orders increased over fourfold during the past Spring Festival holiday, according to a Ctrip report published in late January.
Ctrip is one of the leading tourism service platforms in China.
Prof. Singh also added that his confidence comes more from China's internal dynamics, citing a report from China Tourism Academy that 4.5 billion trips are likely to take place in China's domestic tourism.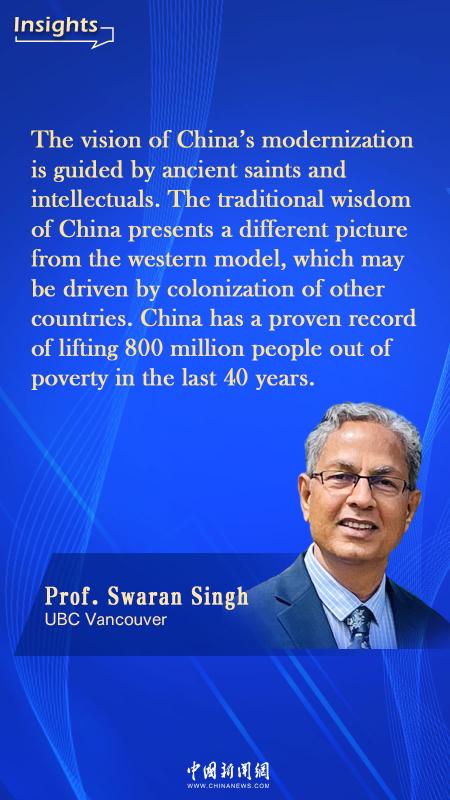 Considering on the strong recovery of the tourism market, Singh was marveled at China's economic development in the past four decades.
"I think one has to understand that China has shown miraculous, enormous growth rates for the last 40 years, an averaging 9 percent is impressive," the professor has said.
In addition to the country's outstanding economic performance, great achievements have been made in its poverty eradication efforts, and nearly 800 million people have been lifted out of poverty during the period.
The success of the fight against poverty is a solid representation of the success of China's modernization.
"The western modernization was enormously driven by their colonization of other countries. But China is an ancient civilization, and a lot of its modernization, which is guided by ancient saints and intellectuals, showcase the wisdom," said Prof. Singh, holding that China's modernization presents a different picture.
He also noticed that China is beginning to participate and influence processes and structures and narratives of the global governance.
On the occasion of the 10th anniversary of the launch of China's Belt and Road Initiative (BRI), Singh added that "China definitely is moving to the next stage now", saying that the last ten years have seen China's Belt and Road Initiative emerging as a game changer.
Over the past decade, the BRI has galvanized nearly US$1 trillion of investment, established more than 3,000 cooperation projects, created 420,000 local jobs, said Chinese Foreign Minister Qin Gang while meeting with the press on the sidelines of the "two sessions."
"Now there are challenges without doubt, and challenges of environment, of ecology, of ensuring development for all," said the professor while mentioning the current situation of global governance, calling that the international cooperation is needed to jointly tackle these challenges.