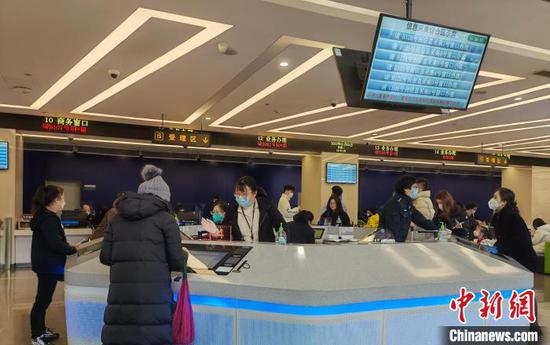 Photo shows the entry-exit reception hall of Hangzhou Public Security Bureau. (Photo/China News Service)
(ECNS) -- More airlines are resuming international flight to the Chinese market as outbound group tours gradually restart in China. Air France, KLM Royal Dutch Airlines, United Airlines, Lufthansa Airlines, and others are resuming or adding international flights to and from China.
Air France is gradually increasing flights from Paris Charles de Gaulle Airport to China. It operates one flight a week to Beijing, and three flights a week to Shanghai and Hong Kong, respectively. It will start daily flights to these cities from July 1.
KLM Royal Dutch Airlines started to operate two weekly flights between Amsterdam and Shanghai and three weekly flights between Amsterdam and Hangzhouon Jan. 30
Lufthansa Airlines is expected to add two flights between Shanghai and Frankfurta week from Feb. 15 and another one weekly flight between Shanghai and Vienna from March 1. Its total flights to and from China will increase to 20.
British Airways will restart flights to Shanghai on April 23 and Beijing on June 3.
On Feb. 3, United Airlines announced the resumption of direct flights between Shanghai and San Francisco four times a week.
Since February, Air New Zealand's round-trip direct flights from Shanghai to Aucklandhave increased to four flights a week, and meanwhile, preferential activities have been launched for direct flights from domestic cities like Beijing and Shanghai to popular destinations including Auckland, Queenstown and Wellington.
Fiji Airways will resume its direct flight from Hong Kong to Nadi on April 1. The Fiji tourism department, together with 34 local tourism partners, launched large-scale promotion activities for the China market, covering air tickets, hotels, high-end resorts, day trips and other travel products.
In addition, the routes and flights operated by Singapore Airlines in the Chinese mainland will reach Beijing, Shanghai, Guangzhou, Shenzhen, Chongqing and Chengdu from Feb. 4 to March 25.