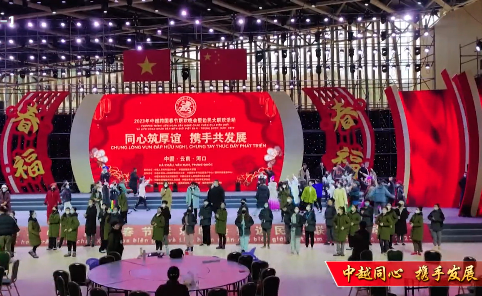 Photo shows the rehearsal of the cross-border Spring Festival gala held by China and Vietnam in southwest China's Yunnan, Jan. 18, 2022. (Screenshot Photo)
(ECNS) -- A cross-border Spring Festival gala was held in Hekou Yao Autonomous County of Honghe Hani and Yi Autonomous Prefecture, southwest China's Yunnan, by China and Vietnam on Wednesday night.
Representatives of governments and enterprises, and people from both countries participated in this gala.
Both China and Vietnam celebrate Spring Festival, but China is about to welcome the Year of Rabbit, while Vietnam will celebrate the Year of the Cat. Two giant dolls representing a rabbit and cat attracted much attention.
Three counties in Honghe Prefecture share borders with Vietnam, with a border line of 848 kilometers. The countries have held four consecutive cross-border Spring Festival galas during 2017 through 2020.
In addition to the gala held in Hekou, another event will be held in Vietnam on Thursday, during which activities including investment promotions, cross-border tourism and economic and trade investigations and media exchanges will be held at the same time.
"Border cities of China and Vietnam are welcoming bright prospects as both countries have optimized epidemic prevention and control measures," said Xu Gaohong, deputy governor of Honghe Prefecture, at the investment promotion meeting held Wednesday, which has signed $437 million of offline contracts and $593 million of online contracts.
"I hope we can invite Chinese enterprises to our country for business investigations and help our enterprises to learn about the Chinese market after the reopening of China-Vietnam ports. Both sides will achieve a win-win cooperation," said Ruan Chundie, general manager of a Vietnamese enterprise.
There are a lot in common between Chinese and Vietnamese cultures and he has felt the Spring Festival atmosphere in this gala, Ruan said.
"Vietnam is my hometown and China is my home now. I hope both sides can deepen bilateral cooperation and making the life of both people more prosperous," said Pan Shichunqiu, a Vietnamese who lives in Hekou County with her Chinese husband and three kids.