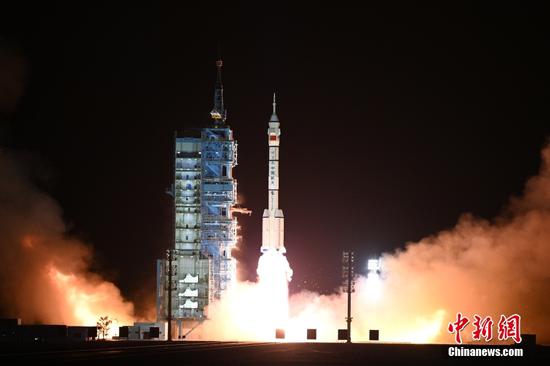 Shenzhou-15 manned spaceship blasted off from the Jiuquan Satellite Launch Center in northwest China on November 29, 2022. (Photo/China News Service)
(ECNS) -- China will carry out launch missions of Shenzhou-16, Shenzhou-17 manned spacecraft and Tianzhou-6 cargo spacecraft in 2023, according to the 2022 Blue Book of China Aerospace Science and Technology Activities released Wednesday.
The Shenzhou-15 and Shenzhou-16 crew will stay in orbit, conduct a range of space missions in 2023, such as astronaut and cargo extravehicular operations, space science, materials and technology test projects, and the maintenance and technical upgrading of space station facilities and equipment, said Jing Zheng, deputy chief commander of space station system from the China Academy of Space Technology (CAST).
This year, four manned spacecraft from Shenzhou-15 to 18 will conduct two returns and twice rendezvous and docking, and three stand-by missions for emergency support, said Zheng Wei, deputy chief designer of manned spacecraft system from the CAST.
Meanwhile, China will conduct one launch mission of a manned spacecraft every half a year in 2023, Zheng Wei added.
Xu Xiaoping, deputy chief designer of the cargo spacecraft system from CAST, said the country will carry out the launch mission of Tianzhou-6 cargo spacecraft to transport life materials and equipment for the Shenzhou-17 crew, supply propellant for the Tiangong space station, and other space missions this year.
Xu said the Tianzhou-6 cargo spacecraft has been upgraded, with capacity enlarged, and that it will be launched from the Wenchang Space Launch Site in south China's Hainan by a Long March-7 rocket.