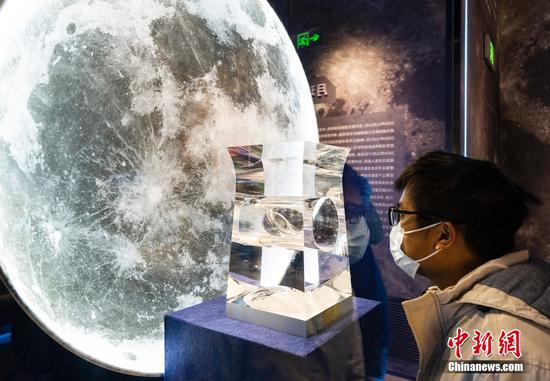 Photo shows a lunar sample which is on display at China Space Museum in Beijing, Nov. 16, 2022. (Photo/China News Service)
(ECNS) -- A Chinese research team has found sub-microscopic magnetite formed by eutectic reaction in Chang'e-5 lunar soil samples, according to the Institute of Geochemistry, Chinese Academy of Sciences, on Sunday.
Observations by scanning electron microscopy and transmission electron microscopy found spherical iron-sulfide grains with a diameter of about 2μm. The uniformly distributed iron-oxide particles, with sizes of about 100nm embedded in the spherical iron-sulfide grains, were confirmed to be magnetite crystals.
The discovery of high-pressure minerals in Chang'e-5 soils demonstrates the contribution of large-impact ejecta from the sampling region.
The research team reported high-quality mineralogical analyses of native magnetite formed by eutectic reaction in Chang'e-5 samples.
The newly formed sub-microscopic magnetite and metallic iron under large-impact conditions could greatly increase the magnetic susceptibility of lunar surface materials. This is a potential agent for giant-impact ejecta to exhibit significant magnetic anomalies.
Lunar magnetic anomalies have been a mystery since the Apollo era. Magnetite, an important ferromagnetic mineral, has not been considered as a carrier of lunar magnetic anomalies owing to the highly reducing conditions on the Moon.
The latest finding by Chinese scientists have established the connections between the formation of magnetite and impact events on the Moon.
The findings were published in the journal Nature Communications in November.