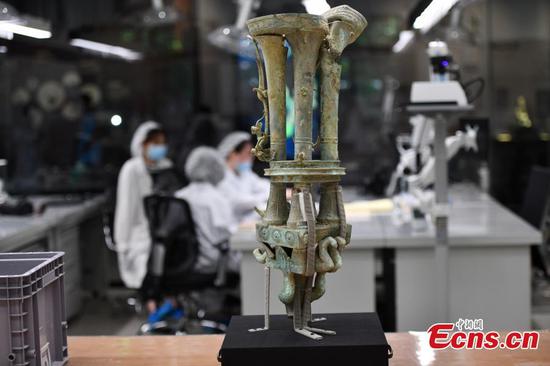 Photo taken on June 29, 2022 shows one of the newly discovered relics, vessels resembling human figurines excavated from No.3 Sacrificial Pit of the Sanxingdui Ruins site in Guanghan, southwest China's Sichuan Province. (Photo: China News Service/Zhang Lang)
(ECNS) -- A total of 15,109 artifacts, of which 4,060 are intact, have been unearthed from the six new sacrificial pits of Sanxingdui Ruins site in southwest China's Sichuan, said Lei Yu, curator of the Sanxingdui Museum, on Saturday at a seminar.
Excavation shows that artifacts from different pits can be combined, indicating that many of these pits may have formed in the same period.
In June, the Sanxingdui research team announced that a bronze sculpture depicting a figure of a human head and snake body unearthed from the No. 8 pit successfully matched with the remains of the bronze bird feet portrait from the No. 2 pit after 3,000 years of separation.
Experts renamed this reunited statue and believed it is a masterpiece of the Bronze Age of ancient China.
According to photos Lei presented, cultural relics unearthed from the No. 3 pit can match with that of the No. 2 pit and a knife-like bronzeware part from the No. 8 sacrificial pit highly resembles bronzeware parts from the No. 1 pit.
More cultural relics excavated from different pits are expected to combine, Lei added.
"Some remains from the No. 2, 3, 7, and 8 pits possibly belong to a divine tree unearthed from the No. 2 pit," said Lei.
Experts speculate the four pits were formed in the same period based on the matching of these cultural relics.
More mysteries about Sanxingdui will be unearthed in the future, Lei said.