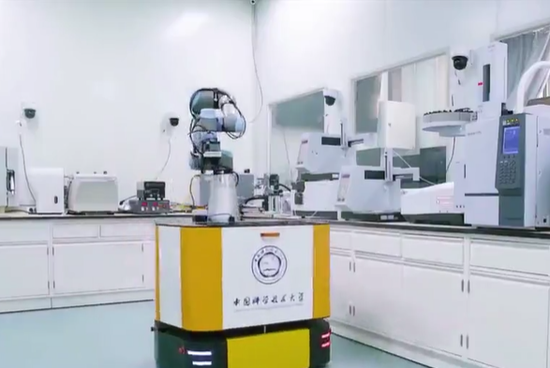 Photo shows the AI-Chemist Xiaolai. (Screenshot from CYOL.COM)
(ECNS) -- A research team from the University of Science and Technology of China has developed the world's first all-round AI-Chemist with scientific mind, capable of performing all essential steps required for chemical research.
The all-round AI-Chemist, or Xiaolai, can automatically process cloud database information and propose experimental plans accordingly based on a service platform.
The robot's artificial intelligence consists of three modules: a machine reading module that can automatically read massive amounts of literature, a mobile robot module to conduct various chemical experiments, and a computational brain module to generate predictive models based on theoretical calculations.
"In putting processed data into the unique computing brain of the robot platform will produce an artificial intelligence model that is able to optimize experimental schemes for researchers," said Jiang Jun, a member of the team.
The research team proved the effectiveness of Xiaolai by creating a catalyst for a high-entropy material, which is very complicated.
First, Xiaolai scanned all existing related literature, which included 16,000 papers. Then a catalyst with manganese, copper, cobalt, nickel and zinc as candidate elements from 118,000 possible combinations was structured.
After selecting the components, Xiaolai determined the proportion of each element. The robot evaluated the theoretical catalytic performance for each configuration.
After 207 trials were conducted, the data was uploaded to a cloud server where the robot's computational brain summarized and analyzed the results.
Using traditional research methods, researchers said this study would have taken hundreds of years to determine the best catalyst formulations, but Xiaolai has shortened the time to five weeks.
According to Jiang Jun, the AI-Chemist is smarter in chemical intelligence and has a wide range of new material development capabilities, covering photocatalytic and electrocatalytic materials, luminescent materials, optical thin films and other fields.
Its application scope will continue to expand as the robot keeps upgrading, said Jiang.