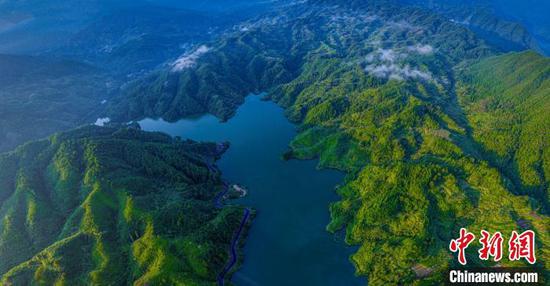 Photo shows the scenery of the Qianjiangyuan National Forest Park. (Photo/Hu Siyi)
(ECNS) -- Forty rare, crested ibises will be released to nature as scheduled in late August or early September this year in Qianjiangyuan National Forest Park of Zhejiang Province, aiming to boost the crested ibis population in southern China.
The birds have been prepared for flying, escaping danger, foraging in the wild, nesting andspawning.
Ten crested ibises from Shaanxi flew to Zhejiang in 2008, inhabiting the Xiazhu Lake area in Deqing County, Huzhou City. Currently, there are 669 crested ibises at Xiazhu Lake, including 382 from artificially bred populations and 287 from the wild. Most of these 40 individuals to be released stem from these populations.
Meanwhile, the Qianjiangyuan park has also taken measures to enhance ecological conservation to welcome these rare birds like banning pesticides, fertilizers and herbicides.
Crested ibises, the first-level protected animal on the List of Wild Animals under State Priority Conservation in China, were listed as endangered on the IUCN Red List of Threatened Species in 2017.