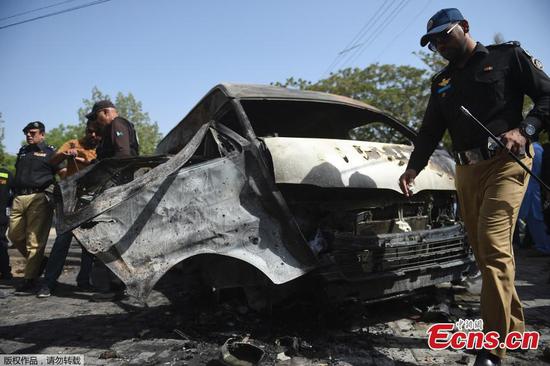 Pakistani police officers and investigators examine a burned van at the site of explosion in Karachi, Pakistan, April 26, 2022. (Photo/Agencies)
(ECNS) -- China expressed its appreciation after Pakistani authorities said on Tuesday that they had arrested a key orchestrator of the suicide attack that killed three Chinese teachers at Karachi University in April.
China will "firmly support Pakistan's efforts in counterterrorism to provide an even safer environment for China-Pakistan cooperation," said  Chinese Foreign Ministry spokesperson Zhao Lijian on Wednesday at a press conference.
"We appreciate the strong efforts made by the Pakistani side. At the same time, further investigation is still underway," he added.
Zhao said China hopes Pakistan will get to the bottom of the attack, bring the perpetrators to justice, take down the terrorist organizations involved, and ensure the safety of Chinese projects.