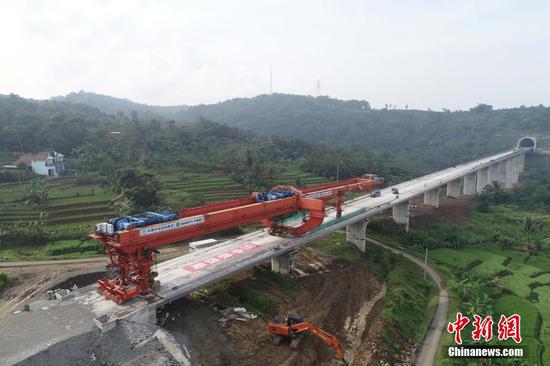 A total of 13 tunnels on the Jakarta-Bandung high-speed railway are drilled through. (Photo/China News Service)
(ECNS) -- The No. 2 tunnel on Indonesia's Jakarta-Bandung High-Speed Railway was drilled through on Tuesday, marking the completion of all the 13 tunnels on the railway, which has laid a foundation for the operation of the railway.
The Jakarta-Bandung High-Speed Railway has 13 tunnels with a total length of 16,643 meters.
Situated in West Java, the No. 2 tunnel is 1,052 meters long with a maximum depth of 53.6 meters.
The Jakarta-Bandung high-speed rail line is a landmark Belt and Road Initiative (BRI) project signaling pragmatic cooperation between China and Indonesia.
It connects Jakarta, the capital of Indonesia, and Bandung, the country's fourth-largest city, with a total length of 142 kilometers and a maximum designed speed of 350 kilometers per hour.
The travel time between Jakarta and Bandung will be shortened from over three hours to 40 minutes, which is conducive to the economic development of Indonesia, the bilateral cooperation, and the BRI development.
The railway is expected to put into operation in June, 2023.