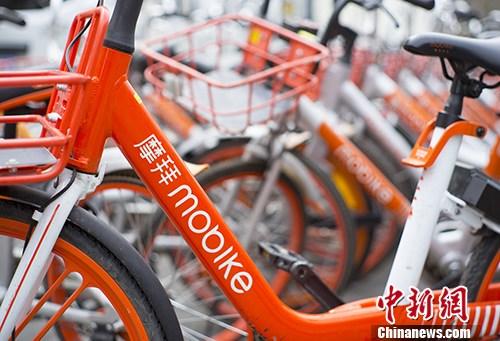 Shared bikes of Mobike are seen on a street in Beijing. (File photo/China News Service)
(ECNS) -- Chinese bike-sharing firm Mobike has raised prices for Beijing riders beginning Wednesday following similar price hikes in Shanghai and Shenzhen, a good sign according to some analysts.
Bikes now cost 1.5 yuan ($0.21) for the first 30 minutes and another 1.5 yuan for every additional 30 minutes. Before the change, it cost one yuan for the first 15 minutes and 0.5 yuan for every additional 15 minutes.
It follows on the heels of a previous price increase in Beijing on April 8. Mobike said raising the fees will enable it to maintain operations and provide better service to users.
The latest price jump comes after new moves by authorities to regulate the bike-sharing industry, which is thought to have improved mobility in cities but has also left mountains of abandoned or dysfunctional bikes dumped on streets.
In August, Didi Bike—the bike-share service of China's biggest ride-hailing company Didi Chuxing—and Mobike both agreed to cut the number of new bikes placed on Beijing's streets by half, according to the Beijing Municipal Transportation Commission.
Cheng Shidong, director of the Urban Transportation Center at the National Development and Reform Commission's Comprehensive Transportation Research Institute, said many bike-sharing companies are raising prices because their current low rates are not sustaining operations.
Analyst Tang Xin said the price changes are actually a good sign that the industry is returning to a normal business model as investment into the sector cools.