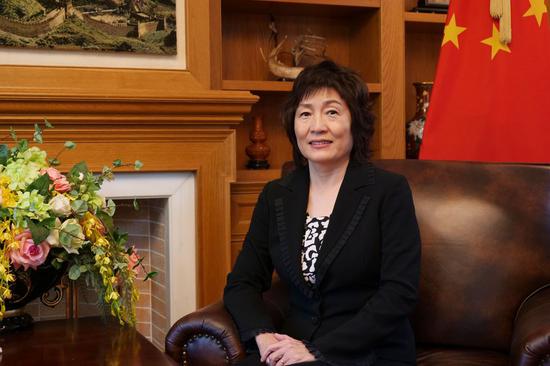 Photo taken on Oct. 25, 2019 shows Chinese Ambassador to Greece Zhang Qiyue in Athens, Greece. (Xinhua/Li Xiaopeng)
China-Greece relations could serve as a paradigm for peaceful co-existence and win-win cooperation between countries of different sizes, systems or cultures, Chinese Ambassador to Greece Zhang Qiyue has said.
On the relations between China and Greece, Zhang said that mutual respect, trust, understanding and support have contributed to the steady and healthy development of a bilateral relationship continually energized with new impetus.
She made the remarks in an interview with Xinhua ahead of the upcoming state visit by Chinese President Xi Jinping to Greece.
China and Greece established diplomatic ties in 1972 and a comprehensive strategic partnership in 2006.
Zhang said the two countries agree it is in their fundamental interests to maintain world peace and seek common development, with same or similar stances taken on such key global issues as free trade and multilateralism.