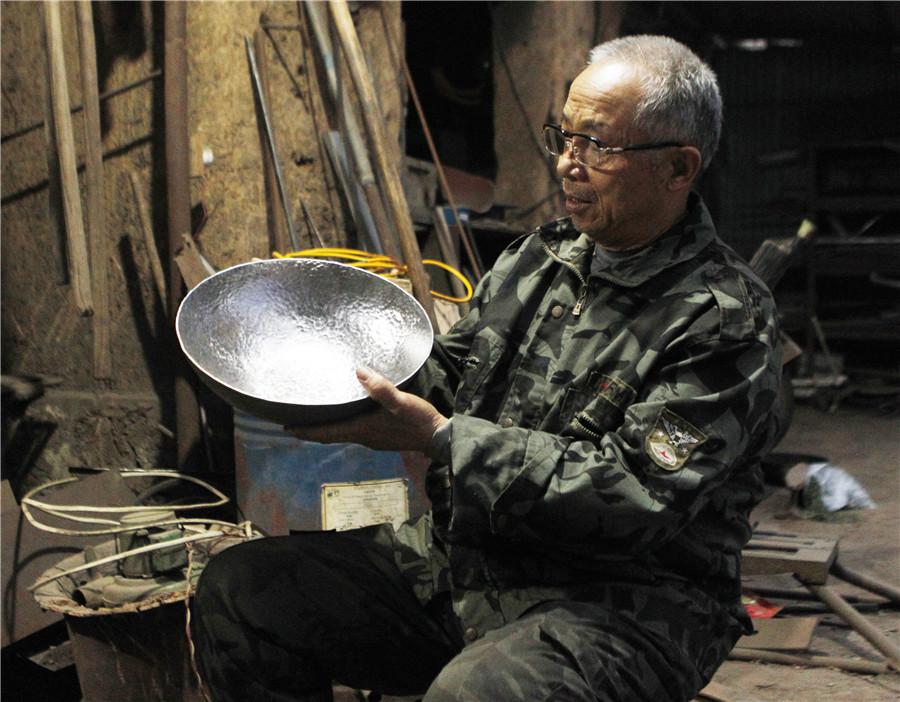 Craftsman Niu Qisheng makes an iron pan in his home in the Zhangqiu district of Jinan, Shandong Province, Feb. 27, 2018. (Photo by Chen Zebing/Asianewsphoto)
Handmade iron pans from the Zhangqiu district in Jinan, Shandong Province, have become a popular item in Chinese kitchens after recently appearing in the hit documentary A Bite of China.
A Bite of China III, the third season of the food documentary series, started airing during the Spring Festival holiday. Its first episode focused on the handmade iron pans produced in Zhangqiu. Those pans must go through 12 procedures, be fired at a temperature of 1,000 degrees Celsius and be beaten 36,000 times until the surface becomes as clear as a mirror and nonstick.
Almost overnight, the sales volume of the pans on Alibaba's e-commerce platform Tmall increased almost 6,000 times.
"All 2,000 pans in my store sold out within the first hour of the episode's premier broadcast," said Liu Zimu, who runs the pan factory in the documentary. In the next few days, his factory was overwhelmed by massive orders, with half of them coming from overseas. The price of the pans ranges from 300 yuan to more than 1,000 yuan.
Prev Button
Next Button