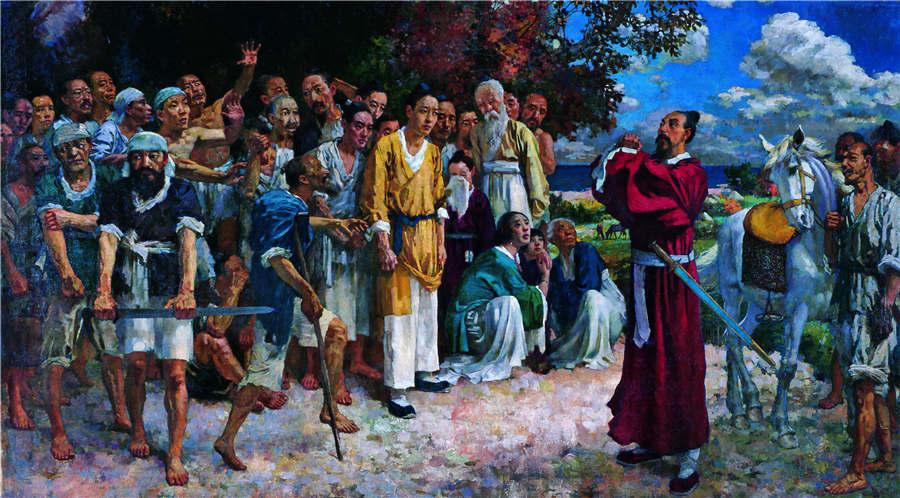 Tian Heng and His 500 Retainers, 1930 (Photo provided to China Daily)
The theme is drawn from Shiji, or Records of the Grand Historian. Tian Heng is a nobleman of the Kingdom of Qi who cut his own throat to save his followers from being slaughtered by Liu Bang, the founder of the Han Dynasty. Hearing his death, Tian's followers committed mass suicide out of loyalty. It took Xu three years to complete the four-meter-long painting, in which he hailed integrity and an unyielding spirit.
Xu Beihong (1895-1953)'s paintings best indicate his personality: patriotic, righteous, diligent and humanistic. The painter who hailed from rural Yixing, Jiangsu province, started from scratch and worked hard to carve a niche in the art world.
He learned the basics of classic Chinese ink painting from his father, Xu Dazhang, a private school teacher who was adept at painting, calligraphy and writing. After his father died, Xu mostly taught himself the oil painting, while he taught at primary schools in hometown.
He left his teaching job for Shanghai in 1915, and made a living drawing illustrations and commercial ads. His artistic talent was later recognized by established artists and social figures, including Kang Youwei and Cai Yuanpei.
He won a scholarship to study at the prestigious National High School of Fine Arts in Paris in 1919. He studied and traveled in Europe for almost a decade. He was greatly nurtured by the classic traditions of European art and culture, incorporating these elements into his renovation of traditional Chinese ink painting.
Xu lived most of his life during a chaotic time when his motherland experienced wars and his fellow Chinese suffered poverty, illness and social instability. In his paintings, he depicted the pains of his nation and people while encouraging others to stand against these difficulties and never give up.
The ongoing exhibition at the National Art Museum of China, Nation and Era, shows more than 100 representative works in Xu's oeuvre, on loan from the Xu Beihong Memorial Hall in Beijing.
It's a rare opportunity to see Xu's major paintings on display together, including the following five, which are considered iconic works of modern Chinese art.
Prev Button
Next Button