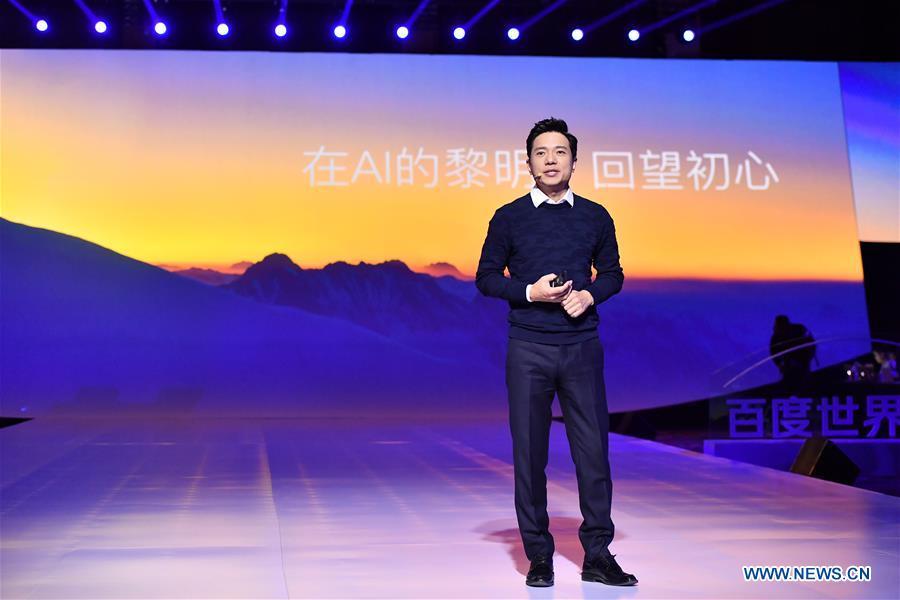 Li Yanhong, CEO of China's Baidu, delivers a speech at Baidu World Conference in Beijing, Nov 16, 2017. Baidu introduced three new products on Thursday designed for smart home market. (Photo/Xinhua)

Baidu's self-driving vehicles, part of a key national artificial intelligence research project, are expected to go into trial operation next year, according to Baidu Inc Chairman and CEO Robin Li.

The internet search giant has stepped up efforts to promote the commercialization of self-driving technology. The company says the mass production of its self-driving vehicles will be possible in 2020, but it expects to achieve that goal ahead of schedule, Li said at the Baidu World Conference in Beijing on Thursday.

Baidu was chosen to lead the establishment of China's AI national laboratory on deep learning early this year. Self-driving technologies are important to the national research project.

Li said Baidu plans to put autonomous buses that run in designated areas into mass production and trial operation by the end of July 2018, in cooperation with Chinese commercial vehicle manufacturer Xiamen King Long United Automotive Industry Co.

"We will launch autonomous vehicles with Chinese automobile manufacturers JAC Motors and BAIC Group in 2019, and Chery Automobile Co in 2020," Li said.
Prev Button
Next Button