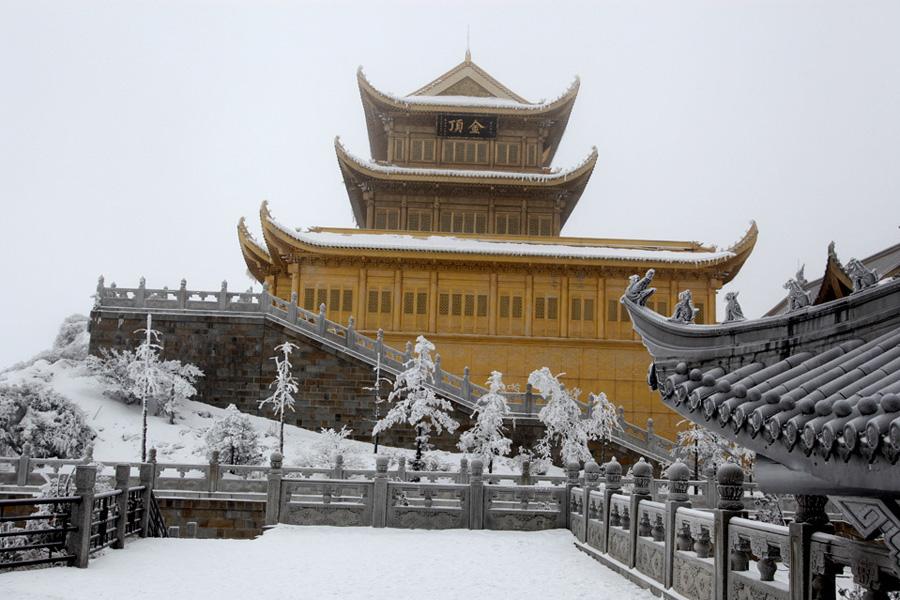 Gold Crest sits at an altitude of 3,077 meters in Emeishan city in Southwest China's Sichuan province. The four greatest spectacular sights are sunrise, a sea of clouds, Buddha and holy rays. (Photo/Official Weibo account of Mountain Emei China)
Emei Mountain lies seven kilometers southwest of Emeishan city and represents one of the four mountain ranges in China that Buddhists consider sacred. It was included in the UNESCO World Heritage list in 1996. The mountain stretches more than 200 kilometers from north to south. Its main peak, Wanfo Crest, is 3,099 meters above sea level.
Since ancient times Emei Mountain has been described as "Beauty under Heaven". Temples were built as early as the Eastern Han Dynasty (25-220) and Buddhism was introduced to the mountain during the Jin Dynasty (1115-1234). In the Ming and Qing dynasties (1368-1644) there were more than 150 temples.
A legend claims that the mountain is where Samantabhadra gave lectures on Buddhism, and most temples house a statue of Samantabhadra. The main scenic spots on the mountain include the Baoguo Temple, Wannian Temple, Fohu temple, Qingyin Pavilion, Heilongjiang Tunnel, Hongchun Platform, Xianfeng Temple (Jiulao Cave) and Xixiang Pond.
Prev Button
Next Button