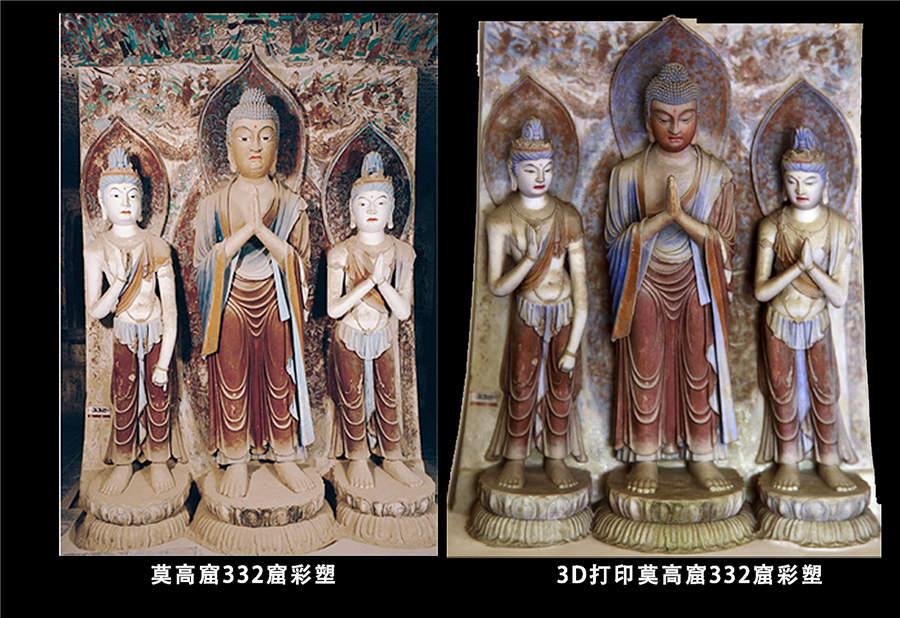 3-D printed Buddhist sculptures (Photo provided to China Daily)
More than a century after the Mogao Grottoes were discovered, it is a hard task saving them from the ravages of man and nature.

In 1900 a Taoist priest named Wang Yuanlu found a cave in Dunhuang, Gansu province, packed with tens of thousand of volumes of Buddhist sutra.
Six years later the Hungarian-British archaeologist Marc Aurel Stein arrived in Dunhuang followed soon after by the French archaeologist Paul Pelliot. Both paid a pittance for priceless treasures from the cave, and both took photos of it and its surroundings.
When you compare those photos and ones taken recently, the extent of the irretrievable cultural losses that Dunhuang and the world have suffered over the past century or so becomes clear. Colors on many of the murals and statues have faded, and blurry areas have become more expansive as a result of oxidation and human-inflicted damage.
Such damage happened in the 1950s and 1960s when artists tried to make facsimiles of murals, when archaeologists tried to survey and map the caves, or in recently years when the growing number of tourists increased the quantity of carbon dioxide and humidity and the exposure of the relics to light or other elements that can speed up their deterioration.
In an effort to minimize the risk of damage, visitors have had to apply online to visit the caves since last July, and the number of visitors is limited to 6,000 a day. Before beginning their tour proper, visitors need to go to Mogao Grottoes Visitor Center to watch two 20-minute high-definition movies about the grottoes, including a film about the seven most valuable caves in terms of artistic achievement.
Prev Button
Next Button