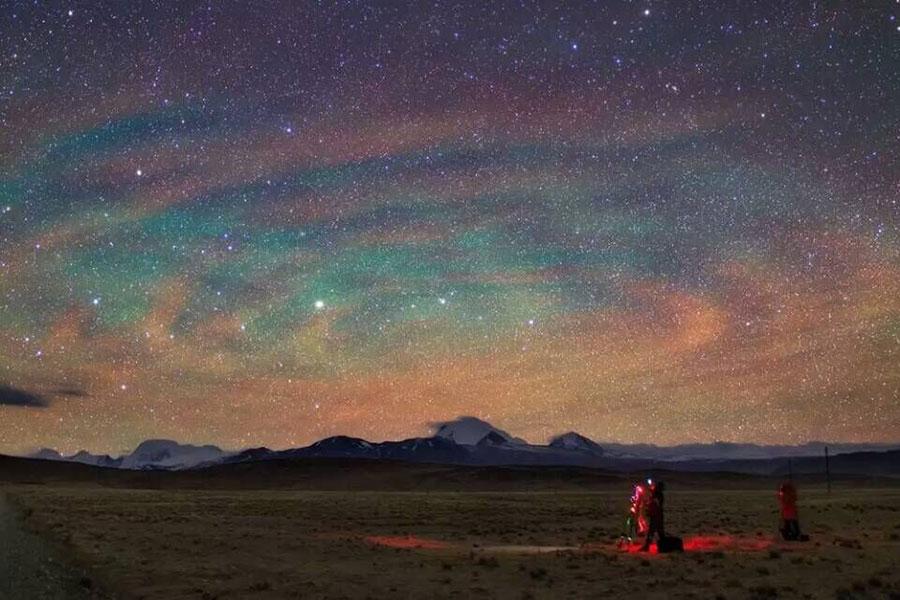 The image of a starry night sky over the Himalayas shot by Dai Jianfeng.
An image of a starry night sky over the Himalayas, shot by Chinese photographer Dai Jianfeng, has been published by NASA's Astronomy Picture of the Day and also became the cover image of a recent issue of Proceedings of the National Academy of Sciences (PNAS), West China Metropolis Daily reports.
Dai, once an engineering student, shot the picture in April 2014, which showed "Gravity waves revealed by a thin layer of glowing atmosphere called airglow, as seen from the Tibetan Plateau", according to the December 8 Edition of PNAS.
"The orange colors come from excited hydroxyl radicals, and the green colors from oxygen light emissions," the journal explains. "In the foreground are the Himalayas, and astronomy photographers capturing the night sky."
Scientists from NASA and the National Oceanic and Atmospheric Administration captured the same starry sky from space with the help of satellites, making Dai's picture precious synchronous data observed from the ground, the paper said.
Growing up in Chongqing municipality, known as China's "foggy city," he only became fascinated with the starry night in 2011 when on a mountain in Tongren city, Guizhou Province.
He then started taking pictures of the stars and wanted to share their beauty with more people.
This passion for photography also means huge difficulties as he usually needs to carry heavy equipment and wait for a long time to press the shutter. Dai is also engaged in a project involving biodiversity conservation in Tibet.
Prev Button
Next Button