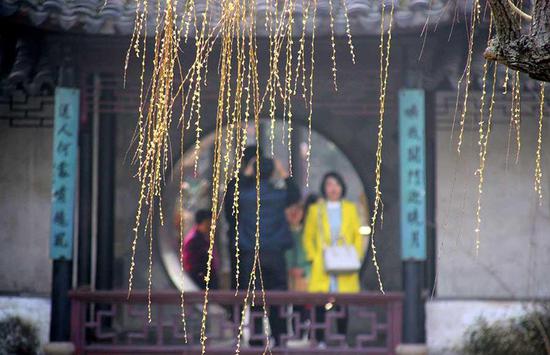 Willow trees in the Zhuozheng garden, one of the attractions in Suzhou city, are gradually turning green as temperatures rise in early spring, Mar 1, 2017. (Photo by Wang Jiankang/Asianewsphoto)
Every June marks the beginning of graduation season in China. As students prepare for the next phase in their lives, many opt to go on a special trip before jumping into higher education or careers.
CGTN spoke to students at Communication University of China about their graduation trip. Check out their diverse answers in the video above.
According to the Ministry of Education, a total of 8.34 million college students are expected to graduate in 2019. More than 10 million students took the National College Entrance Examination, also known as Gaokao, this year.
For many, a trip after graduation is a way to celebrate their achievements and as a reprieve before their transition into working. Here we list four awesome destinations for your memorable graduation trip in China.
Suzhou, east China's Jiangsu Province
Home to glorious gardens and ancient water towns, Suzhou, also dubbed as the "Venice of the Orient," is a relaxing destination.
Listed as a UNESCO World Heritage Site, the Classical Gardens of Suzhou leave many visitors in awe with its grand scale and splendid natural landscape.
Take a leisurely stroll around the Humble Administrator's Garden, Lingering Garden, the Lion Grove Garden or Wangshi Yuan, also known as the Master-of-Nets Garden, to experience the magical healing effects of nature.