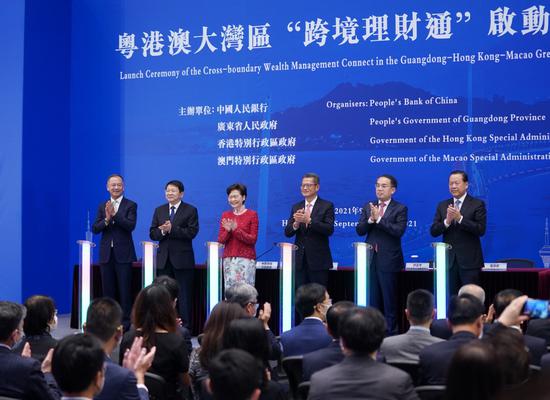 Launch ceremony of the Cross-boundary Wealth Management Connect Pilot Scheme is held in Hong Kong on Friday. (Photo/Xinhua)
Greater Bay Airlines, a newly launched Hong Kong-based carrier, said it hopes to start operations in late October or early November after it obtained regulatory approval and the license necessary to operate passenger flights. It said it plans to apply the permit to fly to Beijing Capital International Airport as its inaugural flight from Hong Kong to the Chinese mainland.
Originally founded in 2010 by Hong Kong property tycoon Bill Wong, who already operated Shenzhen-based Donghai Airlines, the startup carrier was renamed last year in response to the government's national strategy for developing the Guangdong-Hong Kong-Macao Greater Bay Area, and the integration of Hong Kong into the country's overall development.
The company's board members include some high-profile personalities such as Arthur Li, deputy chairman of the Bank of East Asia, and Algernon Yau, former executive president of Cathay Dragon.
"We hoped to conduct the first flight from Hong Kong to Beijing on National Day and celebrate the festival, while we still have a lot of preparation work to do and an operation date can't be decided yet," said Yau, Greater Bay Airlines' chief executive officer, who joined the new carrier after retiring from Cathay Dragon.
"Once we obtained the certificate, we would like to fly to more than 40 cities in the Chinese mainland, including Beijing, Shanghai and some smaller cities. We will decide how to shape a flight network based on market demand and the conditions of the COVID-19 pandemic," he said.
This year, the startup carrier will begin commercial operations with three single-aisle Boeing B737-800 jets. It plans to operate 10 such aircraft by 2022 and 30 by 2026. Its first aircraft has landed in Hong Kong, and its second aircraft is expected to land in Guangzhou, Guangdong province soon.
In the fourth quarter of this year, the airline will also begin international operations from Hong Kong to Singapore, Bangkok and the resort of Phuket in Thailand. The plan is subject to the situation of the pandemic, it said.
In addition, the completion of a third runway at Hong Kong International Airport by 2024 will further strengthen Hong Kong's position as an international aviation hub and as a connecting point into the Greater Bay Area, the carrier said.