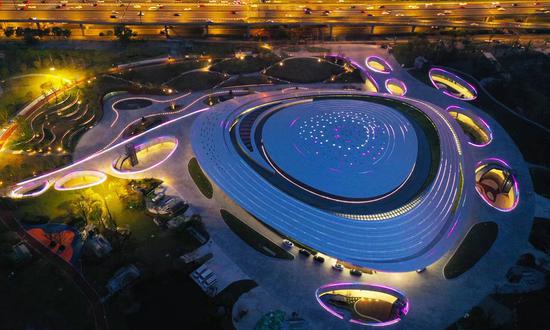 (Photo/Courtesy of the Gongshu District of Hangzhou)
As esports prepare to take center stage at the upcoming Asian Games, Hangzhou's state-of-the-art esports center is ready to showcase the future of competitive gaming, promising a thrilling and immersive experience for both players and spectators.
Covering a floor space of approximately 80,000 square meters, soaring 24 meters in height, and boasting a seating capacity of 4,500, the Hangzhou Esports Centre resembles a spaceship when viewed from above, perfectly capturing the essence of esports with its sci-fi and futuristic aesthetics.
Seven gold medals will be awarded in competitions including League of Legends, Arena Of Valor Asian Games Version, PUBG Mobile Asian Games Version, Dota 2, Dream Three Kingdoms 2, Street Fighter V: Champion Edition, and FIFA Online 4. The events will be held from September 24 to October 2.
The venue's centerpiece features a unique "funnel-shaped display screen" encompassing an area of over 200 square meters, equipped with six horizontal screens and one ring screen. This groundbreaking audio-visual technology offers a 360-degree immersive viewing experience, enhanced by six groups of line array full-frequency and low-frequency speakers.
Additionally, nearly 100 sets of multi-spot lights illuminate the venue, delivering a world-class stage effect and creating a sensory feast for esports enthusiasts.
The facility comprises three main floors, with the basement serving as the competition floor, housing one primary Field of Play (FOP), four annex FOPs, and various functional rooms. The first and second floors are dedicated to spectators, VIPs, technical officials, media interviews, and other groups.
Since its completion, the venue has hosted numerous gaming events, including Naraka: Bladepoint, Journey to the West, the sixth National Finals of Arena of Valor, and the 2022 TGA Winter Finals.
As China's first of its kind to meet the rigorous standards set for the Asian Games, the venue is poised to become a global esports hub post-competition to host world-class esports events and provide training services. Beyond esports, the venue is versatile enough to host various events such as ball games and concerts, meeting a wide range of integrated venue needs, according to media reports.
Esports events at the Hangzhou Asian Games are proving popular. It is the only event at this year's Asian Games where spectators can only purchase tickets if they have been selected through the lottery.
On August 14, tickets for the esports events at the Games went on sale. The ticket sales for this event are conducted through a lottery system, where the public registers and then a random drawing determines who gets the opportunity to purchase tickets.
According to the Hangzhou Asian Games website's ticketing page, the minimum ticket price for individual esports events is higher than that of most other events, starting at 200 RMB, with the highest price set at 1,000 RMB.
"We hope to present a spectacular esports extravaganza for a broad audience, including esports enthusiasts and sports fans," Lu Xin, a member of the Hangzhou Asian Games Organizing Committee esports project, told CCTV in June.
President of the Asian Electronic Sports Federation Huo Qigang previously stated that "Asian esports has become a thriving industry, unleashing enormous potential and connecting people from different backgrounds, cultures, and countries."