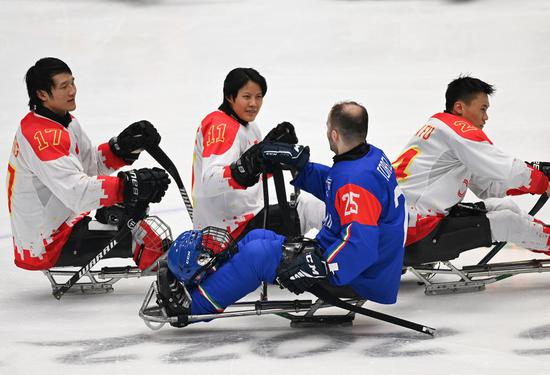 Yu Jing (2nd L) of China greets Francesco Torella (2nd R) of Italy after the para ice hockey preliminary round Group B match of the Beijing 2022 Paralympic Winter Games at National Indoor Stadium in Beijing on March 8, 2022. (Xinhua/Zhang Bowen)
Special: 2022 Winter Olympics
A vibrant and heart-warming closing ceremony at the Bird's Nest Stadium in Beijing on Sunday night brought the curtain down on the 2022 Paralympic Winter Games, which has sent out a message of inclusion, resilience and hope to the world during challenging times.
Chinese President Xi Jinping attended the closing ceremony, with International Paralympic Committee (IPC) president Andrew Parsons hailing that "Beijing 2022 has marked a new dawn for the Paralympic Winter Games" before declaring it close.
Over the past nine days, the Chinese capital, the first city ever to have hosted both the Summer and Winter Paralympic Games, has not only witnessed remarkable feats of para-athletes from around the world but also created a tangible legacy that extends far beyond the sporting arena.
"Beijing 2008 changed the way the Summer Paralympics was delivered forever, this will be the same with the Winter Paralympics," Parsons said. "A new level of the delivery of these Games was set by Beijing 2022."
PUSHING ULTIMATE LIMITS
Four years after winning its first-ever Winter Paralympic medal in PyeongChang 2018, China dominated at these Games with a haul of 61 medals including 18 golds, a fitting ending for the emblem of the Beijing 2022 Paralympics - "Flying High."
The Chinese wheelchair curling team, who took the historic gold in PyeongChang, defended its title in Beijing by beating Sweden 8-3 in the final after a rocky start to the tournament.
Founded in late 2016, China's Para ice hockey team also made a strong showing as it thrashed PyeongChang bronze medalist South Korea to take the bronze in its Paralympic debut.
On International Women's Day, Chinese athlete Yu Jing became just the third woman in the history to play Para ice hockey at the Winter Games. The 38-year-old forward made her Paralympic debut in China's 6-0 win over Italy on the final day of the preliminary round on March 8.
Elsewhere on the snow, Zhang Mengqiu took two golds and three silvers in the women's Para Alpine skiing events to become China's leading medalist, while several others also collected multiple medals at Beijing 2022.
Besides Chinese Paralympians, international athletes have also made breakthroughs in different aspects.
At Sochi 2014, Cecile Hernandez became France's first-ever Para snowboard silver medalist and collected one silver and one bronze at PyeongChang 2018. In 2022, however, she broke two vertebrae in training but made it back to competitions in just two months.
Now at 47 years old, the Frenchwoman finally stood on the highest podium after taking the gold in the women's Para snowboard cross SB-LL2 at Beijing 2022.
58-year-old Francoise Jaquerod of Switzerland has taken two Para Alpine skiing golds in 1988, before continuing her Paralympic dream in wheelchair curling at Beijing's National Aquatics Center.
Since his Paralympic debut at Salt Lake City 2002, Canadian Para cross-country skier Brian Mckeever remained highly competitive over the past 20 years and added three more golds at Beijing 2022 to his rich collection of 13 titles taken from the previous six editions of Winter Paralympics.