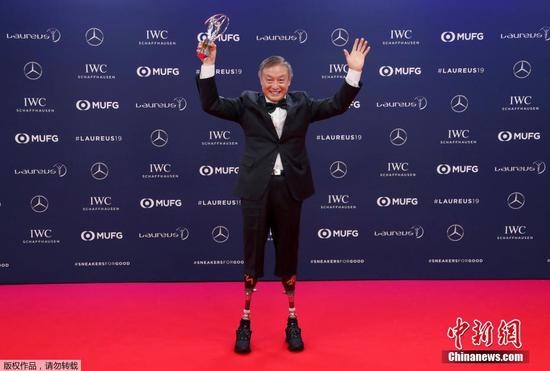 China's Xia Boyu, a double amputee who climbed Mount Everest, winner of the Laureus Sporting Moment of the Year celebrates at the 2019 Laureus World Sports Awards, Monday, Feb. 18, 2019. (Photo/Agencies)
Chinese double amputee climber Xia Boyu received the most votes globally to become the 2019 Laureus Sporting Moment of the Year winner on Monday.
Xia came out from an initial list of 10 nominees before three finalists were revealed earlier this month en route to the winner announced at the ceremony here.
Xia had lost both his legs in 1975 during his first attempt to reach the world's highest peak of Qomolangma due to frostbite. He challenged the summit in 2014, 2015 and 2016 as well, but his dreams were shattered owing to avalanche, earthquake and bad weather respectively.
Xia finally made it in his fifth attempt on May 14, 2018, becoming the first Chinese double amputee climber to have reached the summit of Qomolangma.
"Reaching the summit of Qomolangma is always a dream and goal for me. I have fought for it over the past decades. Despite bad knocks several times, I never give up. I think the perseverance made my life so colorful and meaningful," Xia told Chinese media.
Xia added that his next goal will be "7+2", namely the highest summits of seven continents, plus the South Pole and North pole.
Xia's achievement was hugely recognized by two Chinese members of the Laureus World Sports Academy, Olympic gymnastics gold medalist Li Xiaopeng and table tennis Grand Slam winner Deng Yaping.
"As an athlete, I'm well aware of the difficulty, because we want to challenge ourselves for every day, every minute and every second.
"Young people should learn from Xia's fighting spirit. It's quite positive for the society," Li pointed out.
Deng said, "It's a story of chasing dreams, climbing summits and realizing self-value."
"No matter climbing Qomolangma or being involved in other sports, persistence is the most important thing, especially when you fail once and once again," she added.