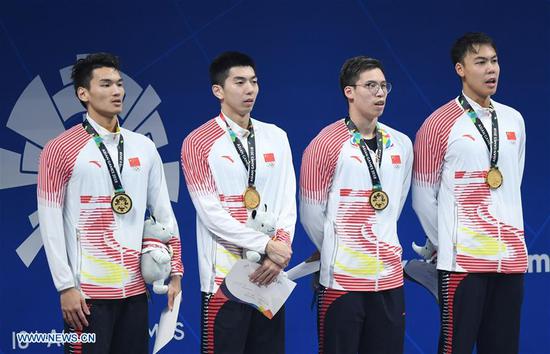 Xu Jiayu, Yan Zibei, Li Zhuhao and Yu Hexin (from L to R) attend the awarding ceremony of men's 4x100m medley relay final of swimming at the 18th Asian Games in Jakarta, Indonesia, Aug. 24, 2018. China won the gold medal. (Xinhua/Yue Yuewei)
Special: Asian Games 2018
With a slice advantage of 0.04 seconds, China won the men's 4x100m medley relay, the last final of the six-day swimming competition on Friday, to tie arch-rival Japan 19-19 on the gold medal tally at the 18th Asian Games.
Singapore won the other two golds, while South Korea pocketed another one from the 41-gold bonanza in the pool.
The Chinese quartet, composed of three-time Asian backstroke champion Xu Jiayu, and teammates Yan Zibei, Li Zhuhao and Yu Hexin, beat pre-Games favorite Japan to take the 4x100m medley relay title in a Games record of 3:29.99. The previous mark of 3:31.37 was also set up by China four years ago in Incheon, South Korea.
Japan came to second in 3:30.03 and Kazakhstan was third in 3:35.62.
"We did our best!" said Xu, who has collected five gold medals from the Jakarta Asiad.
Earlier, triple Olympic champion Sun Yang continued to dominate the mid-long distance freesytles as he claimed his third title in the men's 1,500m in 14:58.53, beating Nguyen Huy Hoang of Vietnam to second in 15:01.63 and Ji Xinjie of China third in 15:06.18.
"It's not easy for me to win the event for three consecutive Asian Games. I was rusty and exhausted after 4X100m freestyle relay. I even thought of quitting the event, but eventually I did my best as I could," said Sun in tears.
Sun swept all the gold medals from 200m, 400m, 800m and 1,500m freestyles and collected a pair of silvers from the freestyle relays in Jakarta.
The 16-year-old Wang Jianjiahe of China added the 400m freestyle title to her golden collection of 800m and 1,500m free as well as the 4X200m free relay, by storming home with a Games record of 4:03.18. Her teammate Li Bingjie, the 200m champion, took the silver in 4:06.46 and Igarashi Chihiro of Japan was third in 4:08.48.
In the women's 50m freestyle showdown, Ikee Rikako of Japan beat Asian record holder Liu Xiang of China to take the crown in a Games record of 24.53 seconds.
Rikako has kept unbeaten in all her four individual events of 50m, 100m freestyles and 50m, 200m butterflies, all in Games record. Plus two relays, the 17-year-old Japanese thus becomes the first women swimmer to win six gold medals in one Games in the Asiad history.
Koseki Yasuhiro of Japan topped the men's 50m breaststroke in 27.07, China's Yan Zibei took the silver in 27.25 and Dmitriy Balandin of Kazakhstan was third in 27.46.
Kim Seoyeong became the lone South Korean to win a gold in the pool, as she took the women's 200m individual medley in a Games record of 2:08.34, beating Japanese pair Ohashi Yui and Teramura Miho to second and third respectively.
Singaporean Joseph Schooling was the winner of other two gold medals, from the men's 50m and 100m butterflies.
Four years ago, China dominated the swimming pool with a 22-12 record over Japan in the Incheon Asian Games.