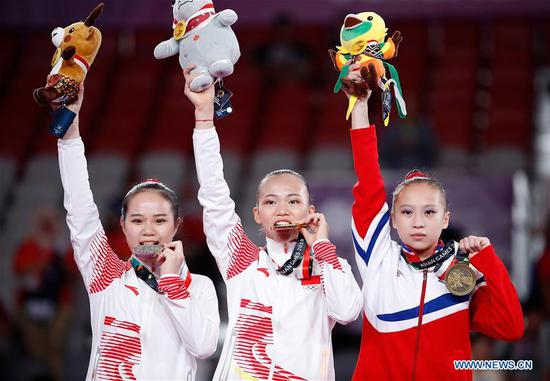 Gold medalist Chen Yile (C) of China poses with silver medalist Luo Huan (L) of China and bronze medalist Kim Su Jong of the DPRK during the awarding ceremony for Artistic Gymnastics Women's Individual All-Around Final at the Asian Games 2018 in Jakarta, Indonesia on Aug. 21, 2018. (Xinhua/Wang Lili)
Special: Asian Games 2018
China's new star gymnast Chen Yile won the country's 12th straight title in the women's all-around event at the Asian Games here on Tuesday.
Chen, 16, the all-around winner in 2017 national championship, reached her professional high in her Asiad debut with stunning routines of both high difficulty and execution scores. She ranked first in both balanced beam and floor exercise among all four rotations, pocketing the gold with 55.950 points in total and sailing into finals of the two apparatuses.
Her teammate Luo Huan, 18, won the silver medal with 54.550 points, underlining China's dominance in the sport. Luo also qualifies for the uneven bars final by finishing second among 43 athletes.
Kim Su Jong from the Democratic People's Republic of Korea (DPRK) earned 53.600 points to win the bronze medal.
It's not all easy for Chen, the youngest of the Chinese squad, to reach the top of the podium on Tuesday night besides challenges from strong DPRK rivals. A little drama came when she was up for floor exercise routine during the second rotation, but only found wrong music played. She was kept on stage waiting for some five minutes before the right music was on.
"Things happened. You can't change it, so you have to adapt yourself for it," Chen said at the mixed zone when asked if the interlude disrupted her rhythm.
Wearing a big smile on the top of the podium though, Chen was surprisingly quiet and uptight outside of arena, obviously feeling uncomfortable with camera flash lights and microphones.
"Actually, I think I can do better today. I have to work ever harder to compete for the World Championship this year. That's the real game, with all the best athletes around the world," she said.
Ye Zhennan, the team manager of China spoke highly of Chen's performance, but played down the prospect of the rising star.
"We are here to gain more experiences from international competitions. The performances of the DPRK team is very impressive and Japan hasn't sent their best squad here. So, we should have a clear mind on the victory," he said.
"If Chen wanna survive and thrive in the World Championship this year and the Tokyo Olympic Games in 2020, she has to improve skills on vault and she must prepare for a more difficult routine," he added.
Another most watched athlete on the stage is Uzbekistan's 43-year-old legend Oksana Chusovitina. When Chen was born in 2002, Chusovitina was a mother of a young son who was diagnosed with leukemia the same year. Before that she had won five world medals and an Olympic gold.
Chusovitina, also with seven Asian Games medals in hand, including two golds in vault and floor exercise at the 2002 Busan Games, proved unstoppable in Jakarta.
She played for all four disciplines and was qualified into the final of vault, her key strength, by finishing the third among 22 athletes.
"I will not stop, and Tokyo is where I'm heading for," she said.
China's Liu Tingting also qualifies for the uneven bars final and teammate Zhang Jin secures a berth in beam final.
All-arounders Lin Chaopan and Xiao Ruoteng won China a gold and a bronze medal respectively in men's event on Monday.
According to the artistic gymnastics competition rules at this Asian Games, qualifications for team and apparatus finals, and individual all around finals have been merged into one single competition.
On women's team event, eight teams were qualified into the finals. China ranks the first, followed by the DPRK and South Korea. The other five teams are Japan, Chinese Taipei, Malaysia, India and the host Indonesia.
China also booked a berth in men's team final on Monday.
Both men's and women's team finals will start on Wednesday.