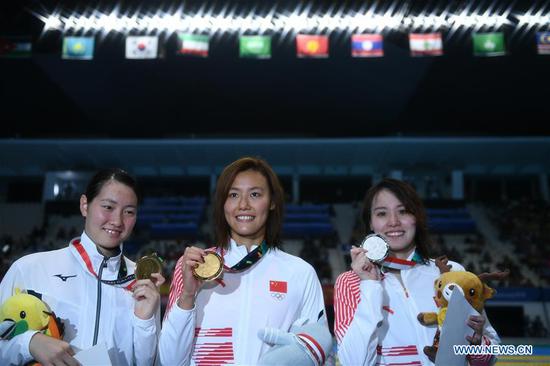 Liu Xiang (C) of China celebrates during the awarding ceremony after women's 50m backstroke final of swimming at the 18th Asian Games in Jakarta, Indonesia, Aug. 21, 2018. Liu won the gold with 26.98 seconds and set a new world record. (Xinhua/Li Xiang)
Special: Asian Games 2018
Liu Xiang of China became the first woman breaking the 27-second mark in women's 50m backstroke for a world record here at the Asian Games on Tuesday as China wrapped up 15 golds to lead medal table.
Liu led the 50m backstroke from the start to the end, clocking a winning time of 26.98 seconds for the world record.
The previous world mark of 27.06 was set up by China's former world champion Zhao Jing in July 30, 2009.
"It was like a dream. I did not expect to do that! In fact, it was not my favorite event," said Liu, who holds the Asian record of 24.04 seconds in 50m freestyle.
The 2015 world champion Fu Yuanhui took silver in 27.68 and Sakai Natsumi of Japan placed third in 27.91.
Multiple world champion Sun Yang retained his title in the men's 400m freestyle in 3:42.92, which was close to his winning mark of 3:41.38 at the last World Championships in Budapest.
"I want to show that I'm still the No. 1 in the world. I swam six high-level competitions from 200, 400, 800 and relays within three days. It's the best reward for me and my coaches because we trained very hard this year," said Sun who completed a Golden Grand Slam from the Asian Games, the World Championships and the Olympic Games.
Yu Hexin made the splashes in the pool as he took men's 50m freestyle gold medal in 22.11, beating Asian record holder Nakamura Katsumi of Japan to second in 22.20 and Nakao Shunichi third in 22.46. China also won the women's 4x200m freestyle relay title.
Japan was still the main rival against China as the Japanese swimmers claimed the rest of the golds in pool on Tuesday. The two teams have split all 21 swimming golds on offer so far, with China leading 11-10 over Japan.
Earlier, Chinese women's water polo team snatched its third consecutive Asian Games title after a big 16-3 win over Hong Kong, China.
A total of six teams compete at the Games as China kept unbeaten run in all five matchs.
After securing men's gymnastics all-around gold in the previous matchday, China took gold in women's division as teenager Chen Yile won the country's 12th straight title in the event.
Chen, 16, the all-around winner in 2017 national championship, reached her professional high in her Asiad debut with stunning routines of both high difficulty and execution scores. She ranked first in both balanced beam and floor exercise among all four rotations, pocketing the gold with 55.950 points in total and sailing into finals of the two apparatuses.
China, who topped the medal table in the past nine editions of the Asian Games, also collected golds in shooting, wushu, wrestling and taekwondo evnets.
The Asian sporting powerhouse now leads with 30 gold, 18 silver and 12 bronze medals, followed by Japan on 12 golds and South Korea with 8. Host Indonesia was fourth with 5 golds.