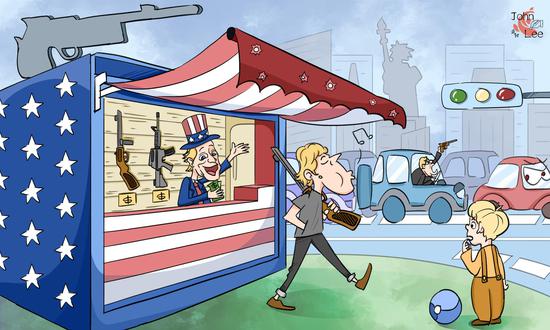 Special: Commentary
(ECNS) -- An 18-year-old gunman opened fire Tuesday at a Texas elementary school, killing at least 18 children, local officials said.
The massacre at Robb Elementary School was the deadliest shooting at a U.S. grade school since the shocking attack at Sandy Hook Elementary in Newtown, Connecticut, almost a decade ago.
As of May 12, 15,569 people have been killed in gun violence in the U.S. this year, according to U.S. media reports. There were 20,726 deaths from gun violence in the U.S. in 2021. Five months into this year, the number of people killed as a result of gun violence is already more than three-quarters of last year's total. Gun violence is getting worse in the U.S.
Gun violence is entangled and interwoven with various issues in the American society including inequality, racism and wealth gap. Due to the reality shaped by money politics and polarized politics, gun proliferation has been a persistent and deep-seated problem in the U.S., for which the American people have paid the ultimate price.
The right to life is the biggest human right. One gunshot after another has shattered the illusion that all men are endowed with the unalienable right to liberty, and lead people to reflect soberly on the U.S.-style human rights and freedom. (By John Lee)