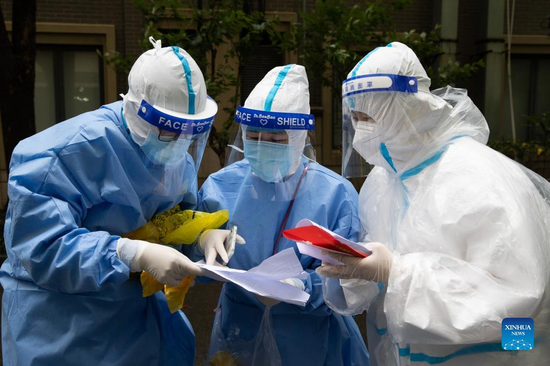 Medical workers check residents' information with a community staff member in East China's Shanghai, April 26, 2022. (Photo/Xinhua)
Shanghai refuted rumors that a new mutated COVID-19 strain had emerged in the municipality on Sunday.
Zhao Dandan, deputy director of the Shanghai Municipal Health Commission, said that the city has continued to carry out gene sequencing of the novel coronavirus samples and the results showed that the virus genotypes of the infections reported in the city's local wave are mainly Omicron BA.2 and BA.2.2 variant strains.
"No new variant with stronger transmission capability has been detected so far," he said at a municipal press briefing.
He said that the city will carry out another week of screening all residents with a combination of antigen and nucleic acid tests starting on Sunday.
Residents in lockdown zones will undergo nucleic acid tests daily. Those in controlled zones will take a nucleic acid test three times and antigen tests four times. Individuals in precautionary zones will take a nucleic acid test once and antigen tests six times.
Couriers, volunteers and other individuals participating in the city's operation and service must take a nucleic acid test once and an antigen test twice – at least eight hours apart – daily, Zhao said.
Based on the latest screening results, the number of residents in the city's lockdown, controlled and precautionary zones involved 2.45 million, 3.82 million and 17.02 million respectively, said Zhao.
Shanghai registered 215 COVID-19 local confirmed cases and 3,760 asymptomatic infections on Saturday. Only 11 infections, all asymptomatic ones, were found out of quarantine and lockdown zones.
There were 412 severely ill and 84 critical cases in the city as of Saturday.
Also, Shanghai reported eight COVID-19 fatalities, with an average age of 80.6, on Saturday. All of them suffered from serious multi-organ chronic underlying diseases and malignant tumors.
Only one of the death cases were vaccinated. Their underlying diseases and malignant tumors contributed to their death, said Zhao.