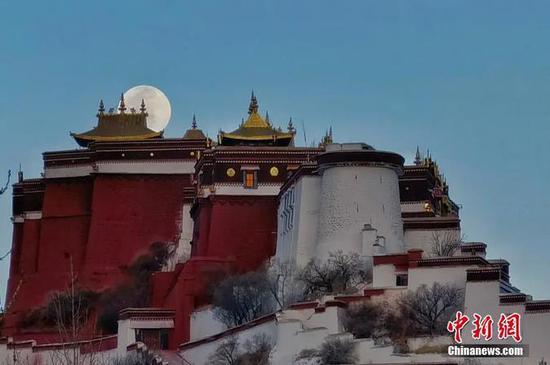 Photo shows the view of the Potala Palace in Tibet Autonomous Region. (Photo/China News Service)
By SHEN Weirong
(SHEN Weirong, professor at Renmin University of China, director of the Institute of History and Language of the Western Regions, and director of the Sino-Tibetan Buddhist Research Center)
BEIJING, Feb. 27, 2021 (CNS) - Since the 1970s, the Western world has treated Tibet as an earthly Shangri-La, synonymous with utopia.
Tibet has ceased to have a real, material existence and has become a virtual, spiritual world. Accordingly, most Westerners' concern and love for Tibet lacked rational and practical content, and they merely invested in their aspirations and expectations for a mysterious and ideal world in Tibet.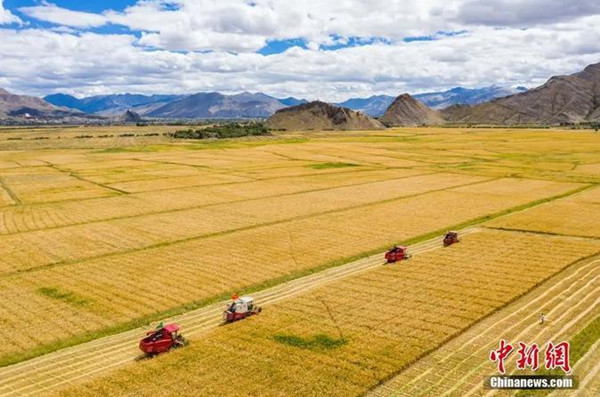 Villagers in Tibet's Shigatse harvest highland barley. (Photo/China News Service)
In the late 1990s, as cultural criticism of orientalism and post-colonialism deepened in Western academia, many began to criticize the Western view of Tibet under the influence of orientalism and imperialism.
Scholars pointed out that spiritualized, Shangri-Laized Tibet is typical of Western orientalism and imperialism. The idealization of traditional Tibet as a peaceful, nonviolent, environmentally friendly, gender-equal earthly paradise free of exploitation and oppression, free of materialism, where everyone seeks spiritual freedom and liberation is nothing but an orientalist image and distortion. Not only does this image have nothing to do with Tibetan tradition, but it also profoundly affects the world's engagement with the real Tibet today. On the surface, there are countless fans of Tibet in the West who care about and love Tibet, but in fact they cannot make any real contribution to its reality. These Tibet fans are nothing but "prisoners of Shangri-La," firmly bound to their image of Tibet.
Incredibly, while the West is fiercely criticizing the orientalist view of Tibet, a wave of what might be called "internal orientalism" is pervading China. Since the beginning of the 21st century, there has been a striking wave of imagining Tibet throughout China. Shangri-La originated as a Utopian paradise established and governed by Westerners in the East in the imagination of Western colonists, a product of Western imperialism and colonialism. But now it is a real geographical place, a tourist destination or a mentality shrine that people admired. Kailash and Cangyang Gyatso once wrote some songs of praise that have been sanctified and romanticized and become a topic of conversation among Chinese people, carrying the sentiment of several generations. People also put all their beautiful ideals about the world into an imaginary Tibet. Although Tibet is no longer a distant material existence, people are still willing to carry their own "background books" about Tibet and its culture to interpret and accept this region they have come into contact with, and have always envisioned a romantic, unrealistic Tibet.
Whether it is Western orientalism or China's "internal orientalism", it is not only of no practical significance to the actual Tibet but also extremely harmful. The real Tibet is naturally beautiful and unique, but it is not the same as the orientalist imaginary Tibet. If we insist on comparing the imaginary Tibet and the mythical Shangri-La with the real Tibet, it cannot be a one-to-one correspondence, but more likely poles apart because they are not the same thing. Direct experience and the triggered in-depth understanding of the real Tibet is in fact the best way to help people break the myths about Tibet and Shangri-La. However, fanatical pursuit of their ideals and their love and attachment to this imaginary utopia often hinder their interaction with the real world. As a result, they may choose to be blind, unable to see the real world in front of them, still clinging to their ideal pursuits, and continuing to be unconscious "prisoners of Shangri-La.". Or they are depressed by the disillusionment of their ideals, so disappointed that they are unable to help themselves, and embark on the path of fierce criticism and even distortion of the real Tibet. For example, since the end of the 20th century, some Western media have been fiercely and irrationally criticizing the Tibetan Buddhism and the Tibetan Buddhist. The criticizers seem to be very ardent Tibetan Buddhism believers before. Obviously, the Tibetan Buddhism masters they met and the teachings they received did not meet their expectations for the beliefs and practices of Tibetan Buddhism, so they were disillusioned and embarked on another extremism which misled Tibetan Buddhism.
It is undeniable that the Tibet fever that has appeared since the 1980s has given Tibet and Tibetan Buddhism an unprecedented influence in the world. However, this kind of influence is based on people's imagination of a virtual and nonphysical Tibet. It does not bring practical benefits to the real Tibet. On the contrary, it often causes confusion and intractable problems. The crux of solving the so-called "Tibet issue" depends to a large extent on whether people can well deal with the relation between "imagined Tibet" and "real Tibet." On the one hand, the myth of Shangri-La must be completely dismantled, and on the other hand, a grand blueprint should be designed for the development of Tibet, which is not only in line with the Chinese Dream, but also in line with the special requirements Tibet's natural, economic and cultural development.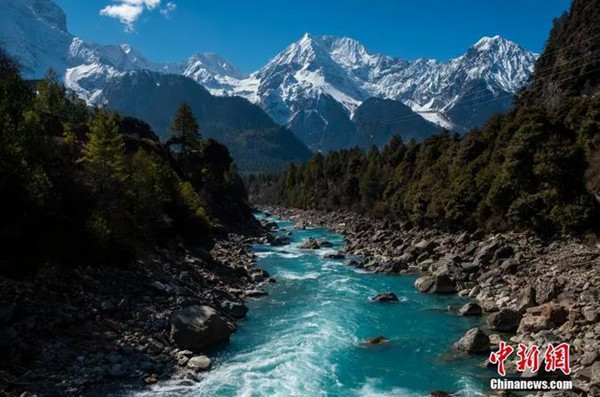 Photo shows the splendid view of Bomê County in Tibet. (Photo/China News Service)
In the past few decades, the Western society's appeal to Tibet is undoubtedly to realize their reconstruction of a utopia based on the traditional Tibet. It is obviously an impossible mission to realize their postmodern ideal in the current Tibet, which is still progressing on the road of modernization. It is worth noting that for a long time the Western society's concern for the "Tibet issue" has a strong root in the public, and such concern can be considered a direct result of the "Tibet fever" in the Western society.
In the past, their most concerned and radical criticism of Tibet focused on protecting Tibet's natural environment and passing on Tibetan traditional culture, mainly Tibetan Buddhism, which itself reflects the very serious problems of natural environmental protection and the inheritance of traditional culture faced by Western postmodern society.
Fortunately, over the last few decades, Tibet has achieved excellent results in protecting its natural environment, inheriting and developing Tibetan Buddhist culture. The Chinese society have paid sufficient attention to the protection of Tibet's natural environment while striving to promote its economic development, making Tibet today the best-protected natural environment among Chinese provinces.
Tibetan Buddhism has also undergone an unprecedented renaissance in the last few decades, with the reconstruction and construction of Tibetan Buddhist monasteries reaching unprecedented levels in history, along with the discovery, collection and publication of Tibetan Buddhist literature at an unprecedented level, as well as the spread of Tibetan Buddhist beliefs and practices throughout China. Obviously, strengthening protection of Tibet's natural environment and passing on Tibetan Buddhist culture have become part of China's ideal of realizing the "Chinese dream" in the new era. It is hardly convincing to blame China's Tibet for the lack of practical basis on these two points.
Regrettably, despite efforts to dispel the myth of Shangri-La for more than 20 years, more and more people are still prisoners of Shangri-La today. Although the myths have been dispelled, they are unwilling to wake up. In the past, Tibet fever in the West was more of a spontaneous social and cultural movement, but today, when it is gradually ebbing, the "Tibet issue" is being talked about again. It is clear that the "Tibet issue" is a deliberate political manipulation, taking advantage of fallout from the Tibet fever that once prevailed around the world to stir up all kinds of political turmoil against China.
Such political manipulation certainly has nothing to do with concern for the protection of Tibet's natural environment and the preservation of Tibetan Buddhism. Nor does it contribute to the healthy development of real Tibet.
The imagery of internal orientalism for Tibet in the last two decades is nothing but harmful to the awareness of building a strong Chinese national community China advocate today. First, Tibet is a real place rather than a longed-for spiritual homeland. Its concrete progress and development, including the protection of its natural environment and the continuity of Tibetan Buddhist culture, require sensible and arduous efforts. Tibetans' yearning for a better life, including satisfaction with material gains and spiritual pursuit, can be realized only through joint efforts. The spiritualization and idealization of Tibet and Tibetan Buddhism are of no use in effectively developing Tibet and realizing the ideal of the "Chinese Dream" there, while the alienization of Tibet runs counter to the goal of building a solid Chinese national community.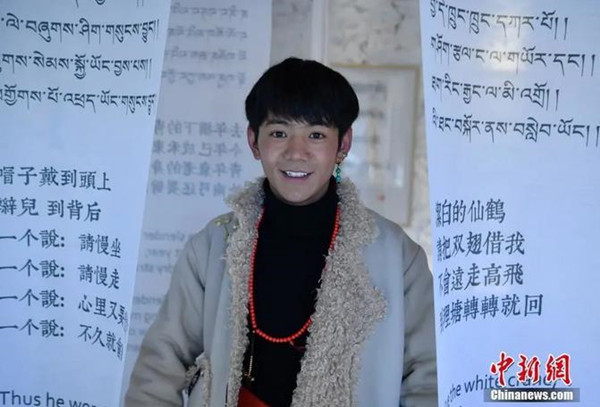 Ding Zhen, a young Tibetan in Litang, is a popular Internet celebrity in China.(Photo/China News Service)
In the last few months, Ding Zhen, a young Tibetan in Litang, has become a popular Internet celebrity all over China. Ding's image and people's discussion of him caught my eye, and I can see the dawn of a new idea and trend. I believe it is time to go beyond the stereotype of orientalism or internal orientalism. We should get rid of the mists around Tibet and Tibetan Buddhism and regard Tibetan compatriots as brothers and sisters who share weal and woe together in a natural, equal and undifferentiated manner. We should regard the beauty of Tibet and Tibetans as the beauty of our Chinese nation, even of the whole world and mankind, instead of fabricating and placing our unsatisfied fantasy on them. We should not label Ding as the representative of Tibet and Tibetan culture. The positive, simple, natural and handsome image he represents is loved and yearned for by all Chinese and people all over the world. Tibet is not only China's treasure but also the treasure of the whole world and mankind.