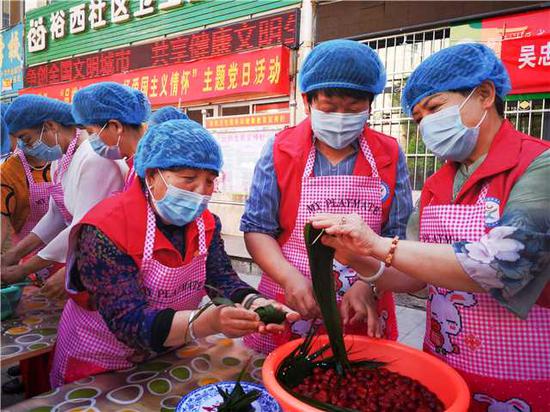 Wang Lanhua (first from left in front) makes zongzi, a festive food for the Dragon Boat Festival, with fellow community residents in Wuzhong, Ningxia Hui autonomous region, in June last year. (Photo/China Daily)
The Yulanhua Volunteer Group in Wuzhong, Ningxia Hui autonomous region, has helped thousands of people in the city.
This community service team assists residents in resolving problems, mediates disputes, and promotes policies for people of all ethnic groups. Volunteers strive to create a comfortable environment for people from Han and Hui ethnic groups living and working together in the community.
The group, with nearly 500 registered volunteers, was founded in 2005 by Wang Lanhua, who is now 70 years old, and is named after her.
Before retiring as director of a community in Litong district in 2004, Wang was well-known for her concern for residents in the neighborhood. She wasn't able to get used to retirement, so she founded the volunteer group to keep serving.
Though the 3,000 households in the community were not closely connected to her, she said she "still cared about their unsolved problems".
In the first years after retirement, Wang's only income was a meager insurance fund. She set up an office in her 70-square-meter house. "So many people came to ask for help, and sometimes they couldn't all squeeze inside," she said.
Wang and her team often helped vulnerable people with difficulties. She went to the homes of lonely seniors to help them shower, cut their nails and wash windows, and she bought food and medicine for the elderly.
Wang has known 91-year-old He Xiuying for 30 years. "It was not easy for her as a widow to raise her oldest son, who suffered from polio. It was sad when he died, and she was too ill to leave the house," Wang said, talking about the resident she often cares for.
"Whether trivial or major, ignoring a problem or failing to resolve it means different things. I should not break their trust," she said, adding that sometimes residents weren't able to reach a consensus despite mediation.
Now, the community organizes activities throughout the week, such as a flag-raising ceremony every Monday to enhance patriotic awareness, and a concert with various ethnic groups every Tuesday.
"Ningxia is our lovely home, it is united and socially stable," Wang said.
"Here, the Hui and the Han cannot live without each other. As President Xi Jinping said, people of all ethnic groups are tightly bound together like pomegranate seeds. Everyone respects each other, understands each other and cares for each other."
Shu Hongyong and his younger brother, both Han, had a difficult life due to family changes.
After Wang learned about their situation, she insisted on taking care of them, frequently bringing them food, washing their clothes, and contacting the school to reduce their tuition fees.
Now Shu has opened a plumbing repair shop and is also an important member of the volunteer group.
Named as a National Moral Model, Wang has inspired many people with her selfless deeds. So far, Litong district has 60,000 registered volunteers, nearly 90 percent of them women.
Wang has moved her office from her house to a 1,400-square-meter volunteer service center.
"The more volunteers there are, the fewer difficulties residents will face. I will keep enriching volunteer activities," Wang said.