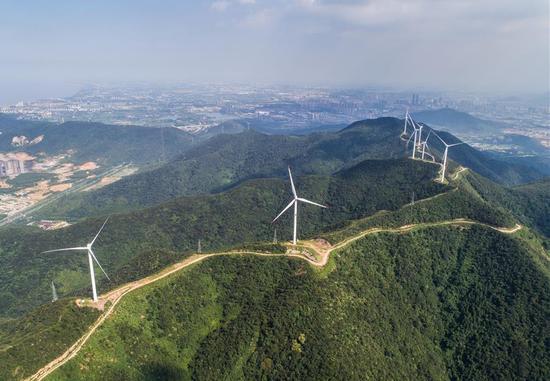 An aerial photo of the Bianshan wind farm in Changxing county, East China's Zhejiang province. (Photo/Xinhua)
Special: Battle Against Novel Coronavirus
China will work toward an economic system that prioritizes green, low-carbon and circular growth, and will promote the across-the-board green transformation of its social and economic development in a bid to deliver on its climate response pledged, Premier Li Keqiang said on Sunday.
Speaking via video link at the second Partnering for Green Growth and the Global Goals 2030 Summit, Li said the nation will give strategic priority to carbon reduction and will enhance coordination between pollution abatement and reduction of carbon emissions.
Participants in the two-day summit, which opened on Sunday and is hosted by the Republic of Korea, include leaders from over 60 nations and international organizations.
China, as the world's largest developing nation, has already committed to peaking its carbon emissions before 2030 and attaining carbon neutrality by 2060, he noted.
Meanwhile, the nation is also striving to complete its modernization drive by the middle of this century and enable its people to live better lives during the process of green transformation, an endeavor that is without precedent in human history and could require arduous efforts, he said.
He noted that the global economy is faced with mounting instability and uncertainty, and green and sustainable growth is facing daunting challenges worldwide, with the COVID-19 pandemic still raging.
In pursuing green growth, the international community should bolster solidarity, enhance mutual assistance and conduct parallel efforts to overcome the difficulties and challenges, he said.
With China set to host in October the 15th meeting of the Conference of the Parties to the UN Convention on Biological Diversity, the nation stands ready to work with the global community to bring global biodiversity governance to a higher level, Li said.
The premier put forward proposals covering three aspects of the effort, saying that stronger global unity and coordination are still required to win the war against COVID-19.
He highlighted the need for stronger international cooperation in epidemic containment and more steps to improve the global health governance system, adding that policy coordination, including fast lanes for essential travel, must be enhanced to ensure the security of industry and supply chains worldwide.
However, economic recovery from the pandemic cannot see a return to growth patterns that involve high pollution and high emissions, and countries must refrain from development that relies on excessive use of resources, Li said.
He called upon the international community to attach importance to the concerns and pursuit of developing nations, with greater support through technology, funding and capacity-building to help their green and low-carbon transformation.