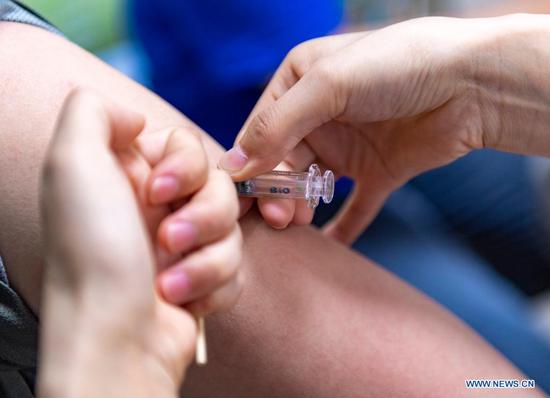 A medical worker injects a dose of COVID-19 vaccine to a local resident in Ruili, Southwest China's Yunnan province, April 1, 2021. (Photo/Xinhua)
Special: Battle Against Novel Coronavirus
Achieving herd immunity from the novel coronavirus will require immunizing children and teenagers, experts said, as clinical trials for such vaccines are displaying promising results.
Although medical evidence suggests youngsters are less susceptible to the virus and not as likely to get as seriously ill as adults, inoculating them will help reduce the transmission of COVID-19 and bring the country one step closer to eradicating the virus, said Feng Duojia, president of the China Association for Vaccines.
"Any age group cleared for use of COVID-19 vaccines should receive doses. Vaccines are a public good, and only when a huge proportion of the population gets vaccinated-including the young and the old-can the desired effects be obtained," he said.
In China, the ongoing rollout of five vaccines mainly targets people aged 18 to 59 and is being gradually expanded to older people.
According to census data, people aged 3 to 17 account for about 18 percent of the total population.
Feng said that reaching the estimated threshold for herd immunity-a vaccination rate of 70 to 80 percent-could require administering doses to up to 1 billion people.
"The goal is challenging because some people currently eligible for immunization may not be vaccinated due to health conditions or unwillingness," he said.
Although no vaccines have been authorized for use in people under 18 in China, trials are underway.
Zhang Yuntao, vice-president of China National Biotech Group, an affiliate of drugmaker Sinopharm, which has developed two vaccines that have conditional approval, said data from trials involving people aged 3 to 17 have shown good results. The studies on efficacy have been completed and submitted for approval.
"We will soon communicate with drug regulators. We believe young people will be covered by immunization programs in the near future," he said.
Sinovac, a domestic biotechnology company, said at the end of March that its COVID-19 vaccine is safe for people aged 3 to 17 and, based on preliminary data, can induce an immune response in them.
Liang Xiaofeng, vice-president of the Chinese Preventive Medicine Association and former director-general of the Chinese Center for Disease Control and Prevention, said past experiences in dealing with inactivated vaccines show that the recommended age range is usually flexible without the drug's efficacy or safety diminishing.
The three approved vaccines from Sinopharm and Sinovac all use an inactivated part of the virus to elicit an immune response in humans.
"We are not expecting marked differences in trial results on children," Liang said.
"The key to establishing herd immunity is to achieve high vaccination rates in a relatively short time span," he added. "Solely depending on vaccinating adults to reach the 80 percent threshold will be very difficult."
Children and teenagers are estimated to make up about 9 percent of all positive tests for the virus, according to a study of 9,500 residents of Wuhan, Hubei province, conducted at the end of April last year. The study was headed by researchers from the Chinese Academy of Medical Sciences and Peking Union Medical College.
Uncertainties
However, Liang warned, "Just as research into reinfections and other questions is underway, there is no guarantee that children are sure to be immune to the worst outcomes of the virus."
Zeng Gang, a Sinovac researcher, said preliminary data suggests that a small dosage for children 3 to 11 can elicit an adequate level of immunity.
Feng, from the China Association for Vaccines, said different doses will be tested in clinical trials to determine the most effective amount.
He said children and teenagers are not the main focus of mass vaccinations at the moment, especially when global vaccine supplies are stretched.
"Advancing clinical trials for seniors and inoculating them is more urgent, because they are at higher risk of severe illness or death," he said.
Feng said difficulties in recruiting elderly volunteers for human trials have stalled China's progress in studying the effects of vaccines among the age group.
"Trials targeting young people are probably happening at a faster pace because it is easier to gather volunteers in that age group," he said.