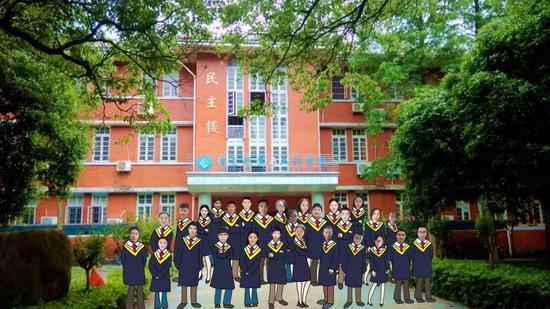 Through detailed cutouts, designers stitched composite the collected headshots and cartoon bachelor uniforms together. /Central South University Photo
Special: Battle Against Novel Coronavirus
Using headshots and hand-painted bachelor uniforms, applied chemistry majors at the Central South University photoshopped a series of graduation photos. With COVID-19 impacting their graduations, the students celebrated in photo, which recently went viral on Chinese social media.
Due to the unexpected COVID-19 outbreak, the of class of 2020 were forced to defend their thesis, conduct interviews and even say their farewells to each other online. The last step was an "online graduation," where students from different universities around China decided to create a memento for the special situation: graduation photos.
Three students from Central South University, Ning Jiajun, He Jialei, and Ge Ziye spent three days making a cartoon version of their graduation photos. According to Ning Jiajun, the class was scheduled to take graduation photos in early June. Due to the epidemic, the plan was put on hold.
As a photographer, Ning has photos of the university's iconic buildings on his computer. The three then collected all their classmates' headshots, and mocked it up with graduation gowns.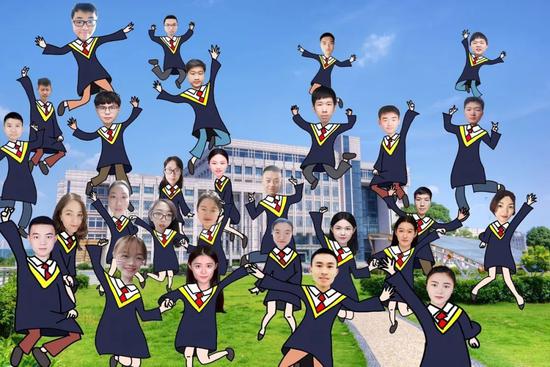 Photoshop works from three students in Central South University. /Central South University Photo
The pandemic has had far-reaching consequences for graduating students who have had to maintain social distancing. With classmates scattered across the country, there's been little chance of getting together again.
Photoshopping graduation photos to graduate "online" is an adaptation of the ritual within the pandemic era.
"We still have regrets for not having an official graduation photo." Ning Jiajun said, "We made the promise with each other to take real photos... in the future."
The photos found empathy with many other students online.
@leer_Aubrey: No, I don't want my graduation photos in this way (cry)
@ONE: My eyes are wet while seeing their photos. This is the only special time in their life.
@Mouyueqingjiu: It is funny, creative, and a little sad. It would be one of their most impressive memory.