Special: Battle Against Novel Coronavirus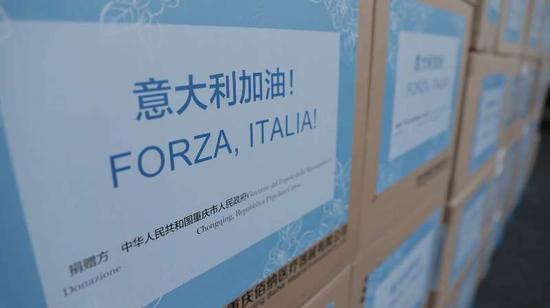 The Chongqing municipal government donated 180,000 face masks to the Italian consulate last week to help fight COVID-19. (Photo provided to chinadaily.com.cn)
Recently, the Chongqing municipal government donated 180,000 face masks to Italy through the Italian consulate in the city to help fight COVID-19. The consulate will mail the masks to Italy soon.
Chongqing has close links with the European country in broad range of areas, including trade, culture, education and science.
In 1988, the Italian government helped Chongqing as the municipality built an emergency medical center. Italy provided 19 ambulances and intensive-care unit equipment worth $3 million.
Recently, Chongqing also donated 150,000 masks to Iran, one of the countries worst-hit by the coronavirus. Previously, it had sent medical supplies to some overseas sister cities, including 35,000 masks to cities in South Korea.
On Wednesday, Chongqing lowered its own emergency response to the coronavirus from the second-highest level to the third-highest. The municipality had already downgraded its emergency response from the top level to the second level on March 11 as the epidemic began to subside.
Chongqing had reported no domestically transmitted new cases for 28 consecutive days since Feb 25, as of Tuesday.