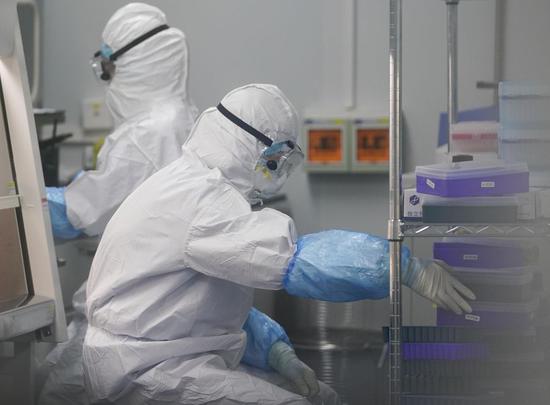 Staff members do nucleic acid testing work at a novel coronavirus detection lab in Wuhan, central China's Hubei Province, Feb. 22, 2020. (Xinhua/Cheng Min)
Special: Battle Against Novel Coronavirus
People infected with the novel coronavirus but without symptoms will not lead to further spreading of the disease in China although the risks remain, a Chinese expert said Tuesday.
Such cases have been found among those who had been in close contact with confirmed COVID-19 patients, Wu Zunyou, an epidemiologist at the Chinese Center for Disease Control and Prevention, said at a press conference, adding that all close contacts are under quarantine and observation.
"Some of them showed symptoms during the quarantine and were hospitalised, while others remained asymptomatic until the quarantine was over," Wu said.
Under current strict management of patients and close contacts amid the epidemic prevention and control, a patient will be sent to hospital once a symptom is discovered and will not be able to spread the virus, he explained.
However, existing risks should be acknowledged and paid attention to amid the prevention and control of the epidemic, Wu said.