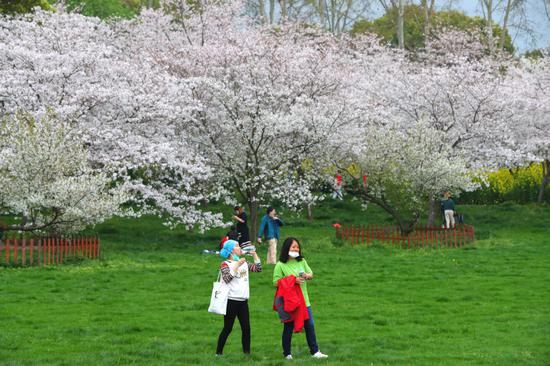 Local residents enjoy the beautiful cherry blossoms at the East Lake Cherry Park in Wuhan city on March 21, 2020. (Photo by Zhu Xingxin/chinadaily.com.cn)
Special: Battle Against Novel Coronavirus
Authorities in Wuhan, capital of Hubei province, decided on Sunday to remove some restrictions on traveling in and out of the city, according to Hubei Daily.
The newspaper reported on its Weibo account that a notice has been published by Wuhan's epidemic control system, which said the public transport network will be gradually resumed inside the hard-hit city.
The notice stipulates that residents only need to show their health code on their mobile phone and endorsement document from their employer to their community's guards and have their temperature taken before they enter or leave the community. It added that measures controlling inter-district travel have been abolished.
People outside Wuhan need to apply for permission if they want to come to the city and once they receive such permission, the only thing they will be required to produce to the checkpoint is the health code. Any other documents, which were requested for entry into Wuhan, are no longer needed.
People with their hukou, or household registration, registered in Hubei currently staying in Wuhan will need to undergo a coronavirus test to get the permission to leave the city, the notice said.