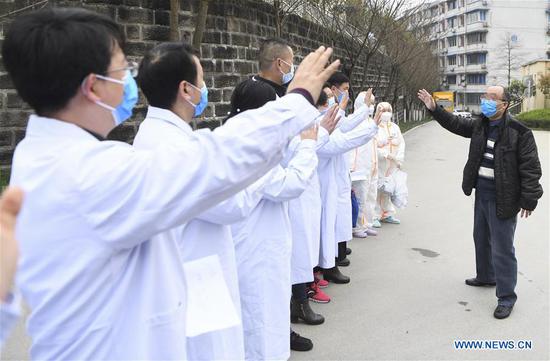 A recovered patient salutes to medical staff at the Chongqing Public Health Center in southwest China's Chongqing, March 15, 2020. The last patient diagnosed with the novel coronavirus disease (COVID-19) has been cured and discharged from the center, bringing the number of COVID-19 patients being treated in hospitals to zero in Chongqing. (Xinhua/Wang Quanchao)
Special: Battle Against Novel Coronavirus
The municipalities of Tianjin and Chongqing on Sunday became the latest in a crop of provincial-level regions that have reduced the number of COVID-19 patients to zero.
After recovery, the last COVID-19 patient in Chongqing, a 52-year-old man, was discharged from a hospital in Changshou District around 11 a.m.
"Thank you for giving me the celebrity treatment," the cheerful patient told a group of journalists who greeted him with a flurry of camera flashes. "But do remember to blur my face."
The southwestern municipality has registered a total of 576 confirmed cases of the novel coronavirus, including six deaths. It has not reported any new infections for 19 consecutive days.
At 4:50 p.m., Tianjin also saw its last COVID-19 patient walk out of the hospital. The northern municipality has so far registered a total of 136 confirmed cases and three deaths.
On Saturday afternoon, central China's Hunan Province also saw its last COVID-19 patient discharged from hospital.
The female patient surnamed Liu received a bouquet and took a group photo with doctors and nurses after walking out of a hospital in Changsha, capital of Hunan.
Both Chongqing and Hunan neighbor the hardest-hit province of Hubei and have faced arduous tasks of preventing a widespread transmission in local communities.
According to initial counting by Xinhua, 12 provincial-level regions on the Chinese mainland are clear of the novel coronavirus infections after their last COVID-19 patients had been discharged.
They include Tibet, Qinghai, Xinjiang, Shanxi, Yunnan, Fujian, Jiangsu, Jiangxi and Anhui, apart from the latest additions of Hunan, Chongqing and Tianjin.
Meanwhile, China's Macao Special Administrative Region also discharged its last COVID-19 patients from the hospital earlier this month.