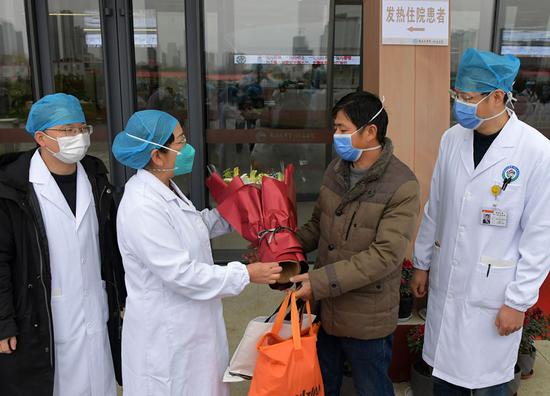 A medical staff member gives flowers to a patient to congratulate his cure at the First Affiliated Hospital of Nanchang University in Nanchang, east China's Jiangxi Province, Jan. 27, 2020. (Xinhua/Peng Zhaozhi)
Special: Battle Against Novel Coronavirus
The number of newly-cured patients with novel coronavirus pneumonia has exceeded the new death toll since Jan. 28, indicating that comprehensive treatment for the epidemic is effective, China's health authority announced Tuesday.
Symptomatic treatment and antiviral treatment for the infected patients, together with treatment combining traditional Chinese and Western medicine and supportive treatments, such as the use of ventilator, blood filtration and extracorporeal membrane oxygenation (ECMO) for critically ill patients, have shown effect, Jiao Yahui, an official with the National Health Commission, said at a press conference in Beijing.
"We have accelerated the experiment and research on the treatment methods in the fighting against the virus in order to apply effective methods to clinical practices as soon as possible," Jiao said.
There may be some fluctuations in the number of newly-discharged patients and the number of new deaths, but that is a normal course of disease development, Jiao added.