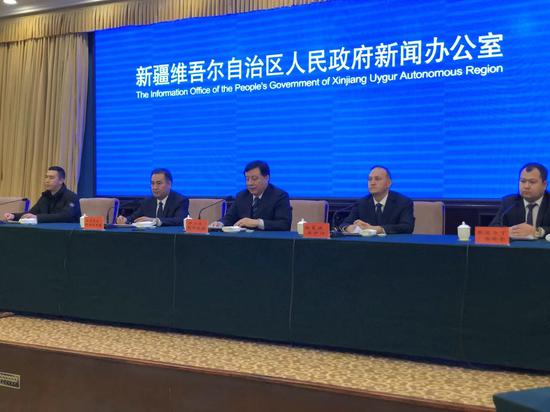 Elijan Anayit (C), spokesperson of the Information Office of the People's Government of Xinjiang Uygur Autonomous Region, speaks to the press, January 20, 2020. (Photo/CGTN)
China's Xinjiang attaches great importance to education, said Elijan Anayit, spokesperson for the Information Office of the People's Government of Xinjiang Uygur Autonomous Region, at a press conference on Monday.
The gross enrollment rate of pre-school education in Xinjiang is 95.95 percent, and 99.9 percent of school-age children are enrolled in primary schools, the spokesperson noted.
The region has realized full coverage of nine-year compulsory education and the four prefectures in southern Xinjiang provide 15 years of free education to all children from kindergarten to senior middle school, he added.
The spokesperson also took questions from journalists during the press conference, addressing some of the key issues on education in Xinjiang.
Q: It is my understanding that the central government has required the comprehensive strengthening of boarding school development throughout the country. What has Xinjiang done in this regard?
Elijan Anayit said that it is prescribed in China's Law on Compulsory Education that the people's government at the county level should establish boarding schools according to local needs.
With the area's vast land, villages and townships are generally far away from one another, making it difficult for students to get to and from school, he added.
To address the problem, Xinjiang built 400 primary and middle boarding schools across the region as early as the 1980s.
According to Elijan Anayit, the faculty members are either recruited, trained, sent from inland provinces and municipalities which provide pair-up support to Xinjiang or are employed through the government. The operational funding of boarding schools is fully covered by the government.
The students in boarding schools can enjoy tuition waivers and free textbooks. Beyond that, they are also exempted from accommodation fees.
The spokesperson rejected a recent New York Times report which alleges that in the boarding schools in Xinjiang, students were forcefully separated from their parents and suffered from trauma. He called it a "complete distortion of the facts" and asked the New York Times to clarify in which schools they witnessed the forced separation of students from their parents in Xinjiang.
Q: What do parents think of these boarding schools? Are they willing to send their children to boarding schools? Do the children like to study and live at boarding schools?
Jiapar Abdula, a farmer in Bageqi town, Hotan County of Hotan Prefecture, shared his feelings as a parent sending his children to one of the boarding schools.
"I am busy with my work and my home is far away from school. Sometimes I do not even have time to cook, let alone helping them with their homework," said Abdula. He said that when his children are at the boarding school, they can have even better food than at home. The dormitories are well-equipped and the teachers are responsible too.
His children are happy to go to the school and their grades are improving, according to Abdula. On top of that, they eat and study at the school for free, which is a great benefit to his family.
Q: How often do the students go home? Can their parents visit them at any time?
Qedirdin Qahar, principal of a boarding school in Bageqi Town of Hotan County, said that students go to boarding schools on Monday morning, go home on Friday afternoon, and spend their weekends at home. They also go home on various holidays, and during summer and winter vacations. Whenever there is a need, students can ask for a leave and go home.
Telephones are equipped in every dormitory building for the convenience of communication between parents and students. Students can call parents at any time.
Qahar said that the New York Times reporters, who penned the piece alleging that parents lose contact with their children in the boarding schools, never asked to go into a school or attempted to interview any of the school's authorities. It is irresponsible for them to say that the schools are "heavily guarded, and outsiders are forbidden to go in" when they did not even attempt to go inside the school.