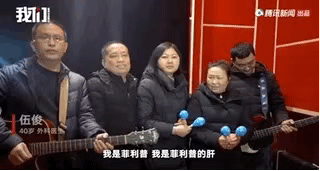 Five recipients of Phillip Hancock's organs. (GIF/Beijing News)
"I'm the recipient of Phillip's liver," "I'm the recipient of Phillip's kidney," "I'm the recipient of Phillip's eye," said five organ recipients from southwestern China, who have formed a band to carry on the dream of their organ donor, Phillip Hancock, an Australian man who worked in China.
The five organ recipients come from diverse backgrounds: a doctor, two salesmen, a farmer and a driver. None of them have a music background. Nevertheless, in order to fulfill their late donor's biggest dream – forming a band – they decided to give it a try.
Phillip Hancock, a 27-year-old man who worked as an English teacher at Southwest University in China's Chongqing Municipality, unexpectedly fell ill and died of diabetes-related complications in 2018.
After he died, his parents donated his liver, kidneys and corneas in China to make his final wish come true, as Phillip had always been an ardent advocate of organ donation. His organs were used in three life-saving operations and helped two people see again.
According to the Red Cross Society of China, he became the first foreign organ donor in Chongqing and only the seventh in the country's history. His posthumous gift has been widely praised in China.
In a video posted on Chinese social media, which has fetched over one million views, these five recipients were seen picking up different instruments, including guitar, bass, drum and sand hammers, and practicing as a band.
Performing as a band is a great challenge for them, since all of them have never played any instrument before, but they still kept doing it as a way to show their gratitude to Phillip and carried on his music dream in their own way.
Moreover, they also hope their performance can raise public awareness about organ donation. They will probably perform on stage for the first time during a memorable activity of organ donation on March 31.
The heart-warming act of these five organ recipients has caused a buzz on social media as many netizens flooded the post with comments.
"He deserves respect. Although he has died, he still lives through those he saved," commented Weibo user @ming198626.