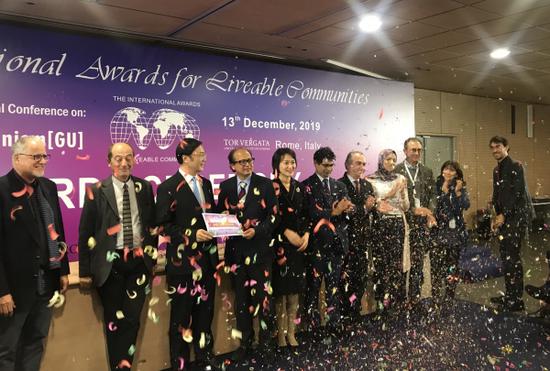 The Jinan delegation cheers at the 2019 International Awards for Livable Communities after winning the highest award in Rome on Dec 13. (Photo provided to chinadaily.com.cn)
Jinan's green and livable environment gained global recognition as the city won the top title at the 2019 International Awards for Livable Communities (LivCom Awards) on Dec 13.
The event held in Rome, Italy, welcomed more than 100 world-renowned cities to compete, including Vienna, Lisbon and Buenos Aires.
Launched in 1997, the LivCom Awards is a global event focusing on the fields of city environmental management, resource utilization and sustainable development.
It is recognized as one of the highest honors in the urban construction across the world, and is widely praised as the Green Oscar.
Jinan, capital of East China's Shandong province, made it for its remarkable achievements in the construction of ecological civilization, green economy and urban lives.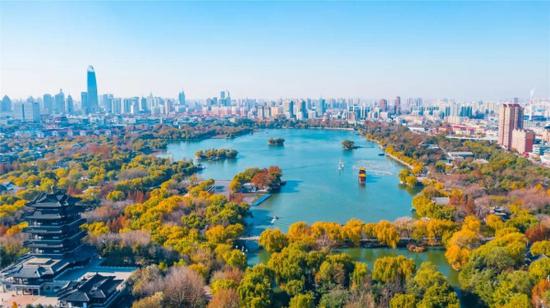 A bird's-eye view of Daming Lake, the only lake in the world formed by springs. (Photo/WeChat Account: jnslyj)
The city is home to numerous springs and weeping willows, leading to some rather distinctive scenery particular to the city. It remains a livable city of affluence and astounding natural beauty.
Using spring water to cook, wash and drink is the local way in Jinan, which makes the city of springs so special to visitors from home and abroad.
In June, the cultural landscape of springs in Jinan was included on a tentative list of new Chinese World Heritage sites.
The city has long strived to promote the construction of infrastructure and sustainable projects.
Its green coverage has improved over time and the implementation of an eco-friendly drainage system has helped create a healthier and safer living environment. Accordingly, the green coverage in urban areas reaches over 4.6 million square meters.
At LivCom, the city also won the only award for environmental protection and green economy, becoming the first city in Shandong province to earn such an honor.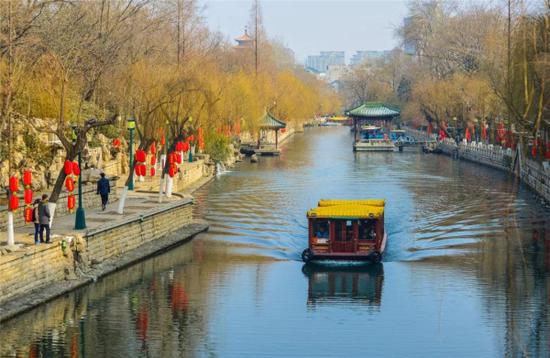 A view of Jinan's city moat. (Photo/WeChat Account: jnslyj)