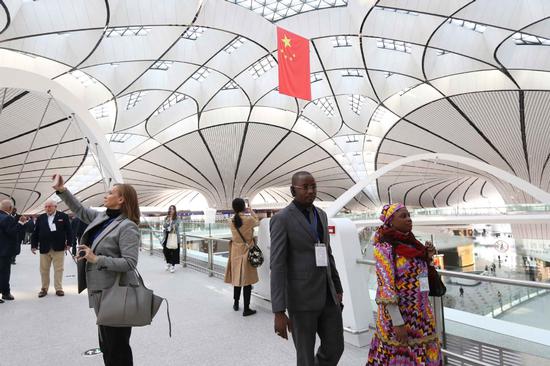 Foreign ambassadors and representatives visit Beijing Daxing International Airport on Nov. 12, 2019. (Photo/chinadaily.com.cn)
"The airport is absolutely phenomenal," said Abbie Simone David, Grenada's ambassador to China, after visiting the new Beijing Daxing International Airport. "I've never seen anything like it in my life in terms of how it's paying attention to the environment."
The Ministry of Foreign Affairs and the Civil Aviation Administration of China on Tuesday organized over 120 diplomats and international organization representatives for a trip to the airport, which opened to flights on Sept. 25.
In December 2014, China started building the airport. Located some 50 km south of downtown Beijing, the new aviation hub is shaped like a phoenix spreading its wings.
During the visit, the diplomats and representatives learned about the design and function of the terminal and experienced the self-service check-in and identification inspection enabled by intelligent technologies.
Arefi Musa, minister counselor at Afghanistan's embassy in China, said this people-oriented airport is smart because it makes passengers feel free, having incorporated a "marvelous idea."
The Chinese-style outdoor courtyards also attracted the attention of the guests.
"The garden is a very relaxing place. You go into this very modern airport and then when you step outside it feels like you're in ancient, traditional China. So you're getting a taste of everything," said David.
The whole design is very innovative and technologically very challenging, said Clemens von Goetze, German ambassador to China. "I'm sure that many architects all over the world would like to have a closer look at how this has been built."
Goetze added that since it is situated in the Beijing-Tianjin-Hebei region, the airport will serve the development of not only itself but also the region. "It's an important step forward, not only for Beijing but for the courage to change."