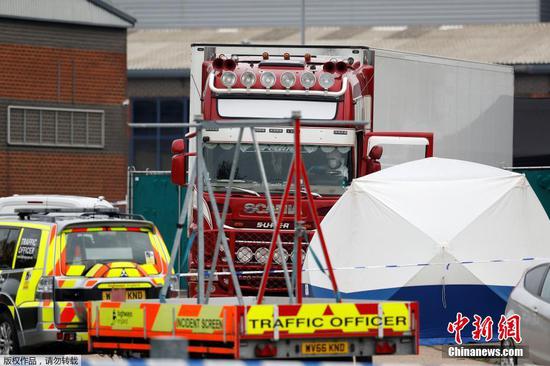 The container lorry where 39 people were found dead inside leaves Waterglade Industrial Park in Grays, Essex, heading towards Tilbury Docks under police escort. (Photo/Agencies)
The UK police launched a multiple murder investigation after 39 dead bodies were discovered inside a truck container in Essex, to the east of London, in the early hours of Wednesday.
Emergency services arrived shortly before 01:40 local time at the Waterglade Industrial Park in Grays, where the bodies of 38 adults and one teenager were retrieved.
The lorry driver, a 25-year-old man from Northern Ireland, has been arrested on suspicion of murder.
The local Essex police force, which is working with immigration officials, said its initial priority was to try to identify the victims.
Officers in white forensic suits could be seen working by the truck and a white tent was erected outside.
The police force, which initially said the truck had traveled to the Welsh port of Holyhead on Saturday, said after further inquiries that it had come by ferry from the Belgian port of Zeebrugge into Purfleet, close to Grays on the River Thames estuary – a crossing that takes nine to 12 hours.
It said the ferry docked at 00:30 local time (2330 GMT).
Police also said the truck came "from Bulgaria" but the country's prime minister, Boyko Borisov, said it had "no connection" to the country, except for having Bulgarian licence plates.
He told Bulgarian television: "The truck was registered in 2017 by an Irish citizen, it left Bulgaria then and has not entered our country's territory ever since."
A cordon has been put in place and access to and from the industrial park remains closed.
In a tweet, UK Prime Minister Boris Johnson said he was "appalled by this tragic incident."
Adding: "I am receiving regular updates and the Home Office will work closely with Essex Police as we establish exactly what has happened. My thoughts are with all those who lost their lives and their loved ones."
The home secretary, Priti Patel, said she was "shocked and saddened by this utterly tragic incident."