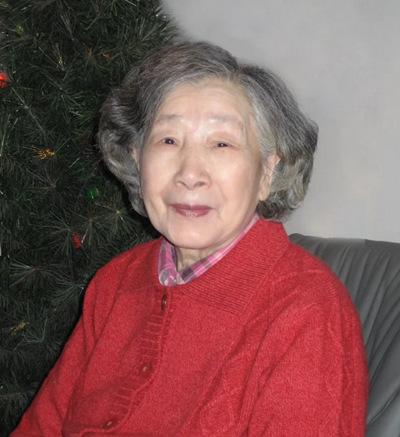 Dr Jin Xueshu [Photo/people.com.cn]
Special: 70th birthday of PRChina
Over the past 70 years since the founding of the People's Republic of China, there have been many unsung heroes who devoted their lives to the well-being of the people and the development of the country.
Dr Jin Xueshu (1922-2014) is one of them.
Jin was one of the New China's first generation of doctors trained in Western medicine, and among the few also educated in traditional Chinese medicine.
Lauded as "a prime example of the outstanding modern Chinese woman" by Deng Tuo, then president and editor-in-chief of the People's Daily newspaper, Jin was a prominent representative among China's first model workers to be conferred the title of "National March 8th Red-Banner Pacesetters," the highest honor for Chinese career women.
Today, five years after her death, Dr Jin is still deeply loved in the People's Daily community.
"People in our generation have missed Dr Jin so much!" said People's Daily veteran Zhang Jinglin. "She was indeed 'a prime example of the outstanding modern Chinese woman.' It described her so perfectly."
Xu Dewen said: "Nowadays it's rather hard to find such a person like Dr Jin who treats people with so much love and care."
Tang Jianmei added: "Dr Jin has been the doctor I admire the most."
Rooted in Shanghai
Born in Haining, Zhejiang Province, in January 1922, Jin moved to Shanghai at an early age. Her parents were killed by the Japanese when she was little. This forced her to be capable and independent. She studied and worked in Shanghai in her early years.
In 1948, witnessed by political activist Chen Shutong in Shanghai, Jin married Shi Xizhi, a pioneering figure in the nation's railway industry and eldest son of Kuomintang statesman and "father of Shanghai tai chi," General Shi Chengzhi.
When Jin worked at the Shanghai Hongqiao Sanatorium, she helped activists Zhang Lan and Luo Longji escape assassination attempts in May 1949.
After the liberation of Shanghai, Jin and her husband donated their savings to support the People's Liberation Army.
Shanghai was then a place full of elite human resources. Beijing, as the capital, was in desperate need of talent. Chairman Mao Zedong called on the top talent in Shanghai to move to Beijing for the good of the capital.
Right after the founding of the New China, the couple left their beloved home for Beijing.
Guardian of China's journalism
In 1950, Jin declined offers from some of China's top hospitals to join the People's Daily.
Every morning before 7am, she visited patients' homes to give them injections. After eight hours at the office, she continued to visit patients, routinely working round the clock, seven days a week.
She never charged her patients, all her medical work was voluntary.
"We'll never forget the scenes that every day Dr Jin, having a stethoscope with her, came to our home to treat us. Everything was in her personal time off from work and free of charge," recalled Jiang Hanzhen, former deputy head of the newspaper's education, tech and culture department.
Jin safeguarded the health of journalists for 51 years until her retirement at the age of 81 in 2003. Countless people both inside and outside of the People's Daily recovered from sickness thanks to her.
"Dr Jin was a superb doctor. She enjoyed a great reputation. She dedicated herself to serving others for her entire life," said Lu Chaoqi, a former deputy editor-in-chief.
In 1986, Jin was given a lifetime achievement award by the All-China Journalists Association for her contributions to Chinese journalism.
Enjoying high prestige
Because of her medical skills and selfless devotion, Jin earned high acclaim from both the leadership and the people.
"Dr Jin was a real good person that was hard to come by," said Guo Wei, former editorial board member and secretary-general of the paper.
"Dr Jin treated her patients like they were her close family members," said senior journalist Yan Shigui. "Everybody in the People's Daily said the same thing that Dr Jin was outstanding in medical skills, noble and virtuous, and enjoyed high prestige."
"Dr Jin was excellent in both medical ethics and skills," said Gu Yuqing, the paper's former France bureau chief. "She treated patients with great care and gentleness. Everything she did, she did for the patients."
"Dr Jin treated the patients with great passion, respect, understanding and warmness. These are the most precious and memorable, and are the things that can't be replaced by modern technologies," said senior journalist Ke Yuelin.
"Dr Jin has been the most respected person in my entire life. She had always had an angelic loving heart," said Capital Normal University professor Guo Haiyan who had known Dr Jin well. "During the 'cultural revolution' (1966-76) when my family was in great disaster, all of our old friends turned their back on us except Dr Jin. Only she treated us the same."
The last patient
During her last days in hospital, Jin shared a ward with an acquaintance who was also in terminal days. In order to prevent her from falling into coma which was extremely dangerous for the patient, Jin, although in a critical condition herself, went out of her way to call the patient's name at intervals. As soon as there was a critical sign, she immediately called the nurses. She even stayed all awake for several nights to safeguard her "last patient."
"Throughout her life, Dr Jin had been so tired. She had given her endless love entirely to others," said Guo Haiyan.
"As a doctor, at least you should try your best to make your patients feel comfortable. Patients are generally those in pain. They come to you for help. So putting yourself in their shoes, you should treat them with a caring heart as if they were your own families."
This was what Jin once said and a simple principle she maintained throughout her life.
Jin died in Beijing on March 17, 2014 at the age of 92. Her ashes, together with those of her husband, were stored at the Babaoshan Revolutionary Cemetery, the main resting place for China's highest-ranking revolutionary heroes.