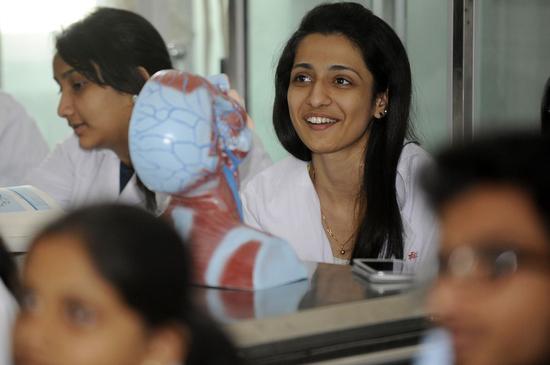 Indian students study at Ningxia Medical University in Yinchuan, northwest China's Ningxia Hui Autonomous Region. (Xinhua/Li Ran)
Special: Xi Attends Informal Meeting with Indian PM, Visits Nepal
Mangla Nishant, 22, has been studying medicine in China for five years. He said advanced equipment and laboratory facilities, lower tuition and excellent teachers...all make him believe that China is the best place for him to chase his dream to be a doctor.
Nishant said they often use high-end facilities like 3D printers in the class, but in India, ordinary students nearly have no access to them.
The young man, born in New Delhi, said his dream job is to be a doctor. Recommended by his best friend, Nishant came to Ningxia Medical University in northwest China's Ningxia Hui Autonomous Region, to study clinical medicine.
"I love this quiet place, and I can see the Yellow River and beautiful mountains here," he said.
Nishant thought that studying in China brought him more opportunities, and he can enjoy high-quality education for less expenses.
He said the cost of living and tuition for one year in China is about 50,000 yuan (7,043 U.S. dollars), and he won scholarships each year, so he doesn't need to worry about the money. He only needs to focus on the study and pass the Foreign Medical Graduates Examination (FMGE) organized by India's National Board of Examinations before he can legally practice medicine in his country.
"I have confidence in passing FMGE, because the education here is excellent," Nishant said.
Chinese government has been making efforts in recent years to provide more learning opportunities for international students.
At present, 45 qualified universities have been approved to offer Bachelor of Medicine and Bachelor of Surgery (MBBS) courses in English for foreign students.
In China, the length of MBBS program for foreign students is six-year, with Mandarin classes in the first year and internships in hospitals in the final year.
Facing the upcoming internship, Nishant is both excited and a little stressed. "It's hard to communicate with patients in Chinese, but I believe teachers will help us."
"Teachers and doctors will give a helping hand whenever foreign students need," said Han Xiaobao, the vice dean of International Education School of Ningxia Medical University.
According to a news report of an Indian media, over 23,000 Indian students are currently studying in Chinese universities, and among them "over 21,000 have enrolled to study MBBS, which is an all-time high."
In Ningxia Medical University alone, the number of Indian students increases to more than 200 at present from over 20 in 2005, accounting for two-thirds of foreign students in the university.
"I hope I can become a surgeon before 30 and do something for my country," Nishant said.