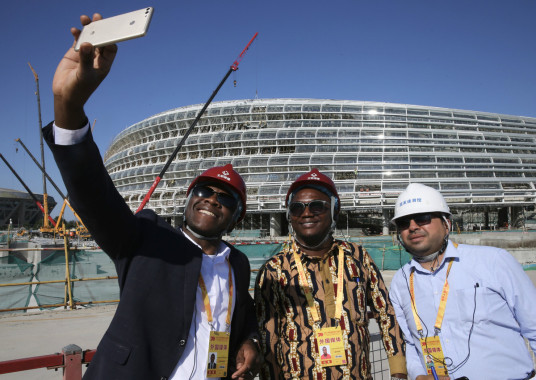 Foreign journalists gather on Tuesday in front of the National Speed Skating Oval, which is under construction and will be used during the 2022 Beijing Winter Olympics. (Photo by Chen Zebing/China Daily)
Special: 70th birthday of PRChina
About 4,700 reporters and live broadcast technical personnel-including 1,100 from about 400 media outlets in 125 countries and regions-have applied to cover the 70th anniversary of the founding of the People's Republic of China.
Xu Lin, head of the State Council Information Office and director of the media center for the celebration of the 70th anniversary of the founding the PRC, warmly welcomed some of the journalists at a banquet at the media center on Saturday evening. Around 500 reporters from home and abroad attended the reception.
Xu said the center will provide them with quality, efficient media services, and he hoped the reporters would offer the global audience timely and full coverage of the grand event.
He said the anniversary is a day of major celebration and significance for the Communist Party of China, the nation and its people, and it is attracting the eyes of people around the world.
Many reporters from home and abroad have participated in a series of media events such as news conferences and field interview trips in the past week. Some have even traveled around China to gain a deeper understanding of the monumental changes and accomplishments China has achieved over the past seven decades and especially since the 18th CPC National Congress in 2012, Xu said.
On the eve of the PRC's 70th birthday, Xu said he hoped reporters from around the world could, through their own eyes, pens and cameras, accurately and truthfully portray China's changes and accomplishments and the character of its people.
"We believe covering the anniversary and related events will be a deep and memorable experience," he said at the reception.