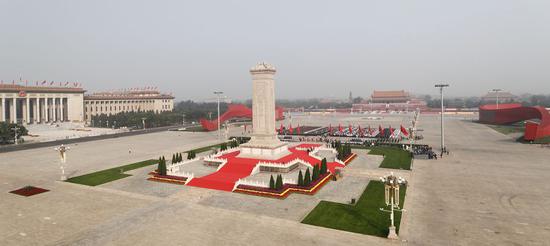 A ceremony presenting flower baskets to deceased national heroes on the Martyrs' Day is held at Tian'anmen Square in Beijing, capital of China, Sept. 30, 2019. (Xinhua/Liu Bin)
Special: 70th birthday of PRChina
Xi Jinping and other leaders of the Communist Party of China and the state paid respect to late Chinese leader Mao Zedong at the Chairman Mao Memorial Hall Monday morning.
Xi and other leaders made three bows toward Mao's seated statue and paid respect to the remains of Mao.
This year marks the 70th anniversary of the founding of the People's Republic of China.