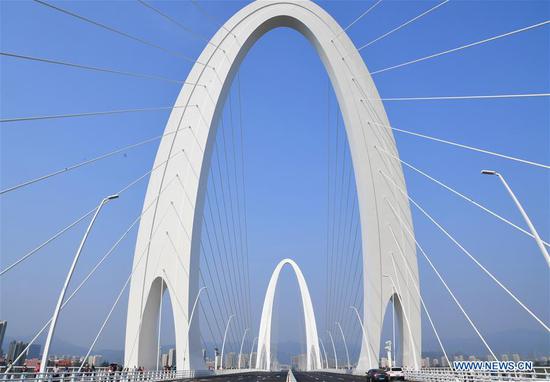 Photo taken on Sept. 29, 2019 shows the New Shougang Bridge in Beijing, capital of China. The bridge opened to traffic on Sunday. (Xinhua/Ren Chao)
The world's first twin-tower cable-stayed steel composite bridge opened to traffic Sunday in Beijing, which is on the extension line of Chang'an Avenue, an east-west artery in downtown Beijing.
The new bridge, named after the Shougang Iron and Steel Group, China's first iron company and its fourth-largest steel company, is 1,354 meters in length and 54.9 meters in width. With the new bridge's launch, the extension line of Chang'an Avenue will stretches 6.5 km westward.
The new bridge with eight lanes in both directions also accommodates non-motor vehicle lanes and sidewalks. It is an entirely welded steel structure with 45,000 tonnes of steel plates, surpassing those used for building the National Stadium, better known as "Bird's Nest."
Steel box girders and steel tower plates on the new bridge were produced independently by the Shougang group.
Founded in 1919, the steelmaker, based in Shijingshan District in western Beijing, has moved its production to Caofeidian in neighboring Hebei Province. The former plant site has been turned into a new zone, featuring winter sports events, fairs and exhibitions. The construction of a large ski-jumping platform -- a venue for the Beijing 2022 Winter Olympics -- is underway.
The extension line aimed at ensuring speedy travel as the link to downtown Beijing is expected to boost the development of the new Shougang area, covering a total area of 22.3 square km.