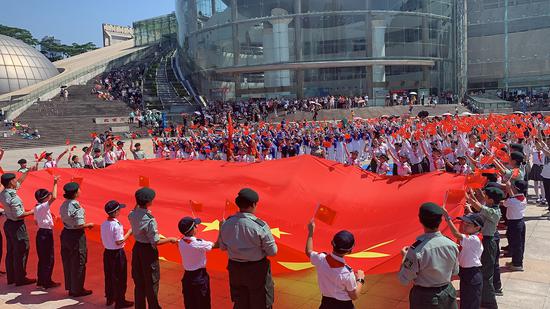 Teenagers from the Hong Kong Special Administrative Region and Shenzhen display the national flag during an event to celebrate the 70th anniversary of the founding of the People's Republic of China at Shenzhen Children's Palace, Shenzhen, China, Sept 21, 2019. (Photo/China Daily)
Special: 70th birthday of PRChina
Teenagers from the Hong Kong Special Administrative Region and Shenzhen, Guangdong province, on Saturday sent their blessings to people all across the country, ahead of the 70th anniversary of the founding of the People's Republic of China on Oct 1.
A national flag-raising and singing of the national anthem by about 260 young people was the high point of a series of themed events in Shenzhen.
The gathering was held in the square outside the Shenzhen Children's Palace in the heart of the city. The majority of the students, 230, came from Shenzhen. Thirty-two teenagers from Hong Kong were also there.
Following the ceremony, the group sang the renowned patriotic song - Ode to the Motherland, and there was a showcase of Chinese-style foot drills.
The event drew a large number of spectators, who seated themselves in the square to watch.
Around noon, the kids will watch a film at the dome theater of the Children's Palace. The ones from Hong Kong will also be treated to a light show at the landmark Civic Center Square.
In the afternoon, 120 teenagers are expected to design a piece of printmaking artwork, with the theme of the 70th anniversary of the People's Republic of China, at the Guanlan Printmaking Village. The village is located in the northern part of Shenzhen, and became famous for the preservation and development of printmaking.