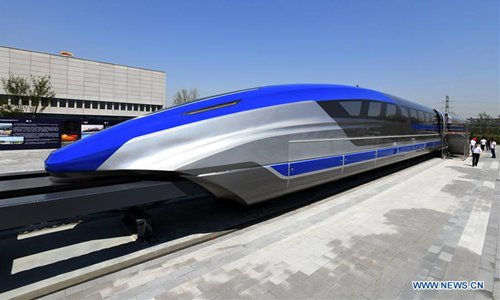 Photo taken on May 23, 2019 shows China's first high-speed maglev train testing prototype in Qingdao, East China's Shandong Province. (Photo/Xinhua)
Chengdu in Southwest China's Sichuan Province is planning a high-speed maglev line with a top speed of 800 kilometers per hour to Chongqing Municipality, which will boost regional integration and the economy, analysts and local residents said.
The train will run at 600-800 kilometers per hour, cutting travel time between the two cities to half an hour, according to the city's latest development plan.
Such speeds are close to airplane cruising speeds. Sans wheels, the maglev train further increases in speed by running in a vacuum tube at low air resistance.
Chengdu-based Southwest Jiaotong University is conducting tests on this high-speed maglev train. Lab tests for a train with a designed speed of up to 1,500 kilometers per hour will be completed in 2021, Xinhua News Agency reported.
Ruan Qi, an employee at the university's information department, told the Global Times on Tuesday that tests are ongoing and the team will provide timely updates.
In May, China manufactured a single-car prototype maglev train with a designed top speed of 600 kilometers per hour in Qingdao, East China's Shandong Province. A five-car prototype is scheduled to roll off the production line in 2020 and complete integrated verification in 2021 after undergoing comprehensive tests, Xinhua reported.
"It [maglev train] can help regions where the existing high-speed trains are overloaded," Sun Zhang, a railway expert and professor at Shanghai Tongji University, told the Global Times on Tuesday, citing the Shanghai-Hangzhou high-speed line in East China as an example.
Travel demand in the populous Sichuan and Chongqing regions is expected to increase as the development of the Belt and Road Initiative will boost the regional economy and human migration.
The line will further propel regional prosperity, Sun said.
Chongqing resident Wang Yitong told the Global Times that the maglev line, if the fare is reasonable, could be an option for people who work in Chongqing but live in Chengdu, or vice versa.
"Chengdu is a livable city and I am thinking of buying property there. But that's difficult and inconvenient if I work in Chongqing," said Wang, who is looking forward to the maglev train.
Sun noted the high construction cost for maglev trains can be offset by being placed in high-demand areas.
The cost could be further lowered when maglev trains enter mass production, Sun said.
Shanghai is the only Chinese city operating a commercial high-speed maglev line, which began in 2003 as an experiment. Beijing and Changsha offer medium-low-speed maglev rail services as an alternative to the city subway system, which were built at a cost of 200 million yuan ($29 million) per kilometer, Science and Technology Daily reported in March.
Maglev trains are fast, safe, reliable, and need low maintenance. They can be used to connect major cities or city clusters to boost regional integration, Xinhua reported.